Hey there! Today I have a damask stamped design for you that was inspired by the intricate rose gold charm on my ring finger.
I am so hooked on rose gold right now! How about you? I swear I could wear it every day and I just love that the shops are starting to carry more charms in rose gold, such as the namesake charm in this design. And I was psyched to finally get my hands on a bottle of the limited edition Cirque Colors Halcyon last year!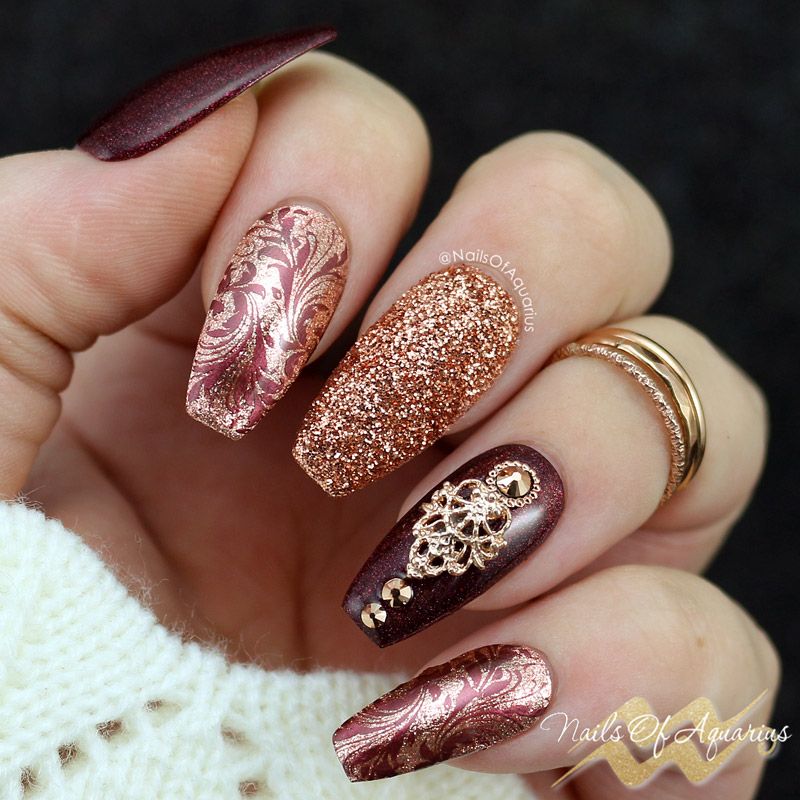 I began this look with 2 coats of Cirque Colors Halcyon on my index, middle and pinky fingers and accented with Cirque Colors Ambrosia on my other nails. I finished with HK Girl Fast Drying Topcoat and allowed some drying time before stamping.
I stamped a favorite design from Lina Nail Art Supplies You're a Damasque plate using Hit The Bottle Oh look...It's Wine Thirty and my Big Bling from Clear Jelly Stamper.

I've been using this clear jelly stamper a lot recently and I think I'm finally getting a feel for it. Applying the right amount of pressure is critical with this stamper, and I used a lighter roll to pickup the design from this plate that has shallower etching.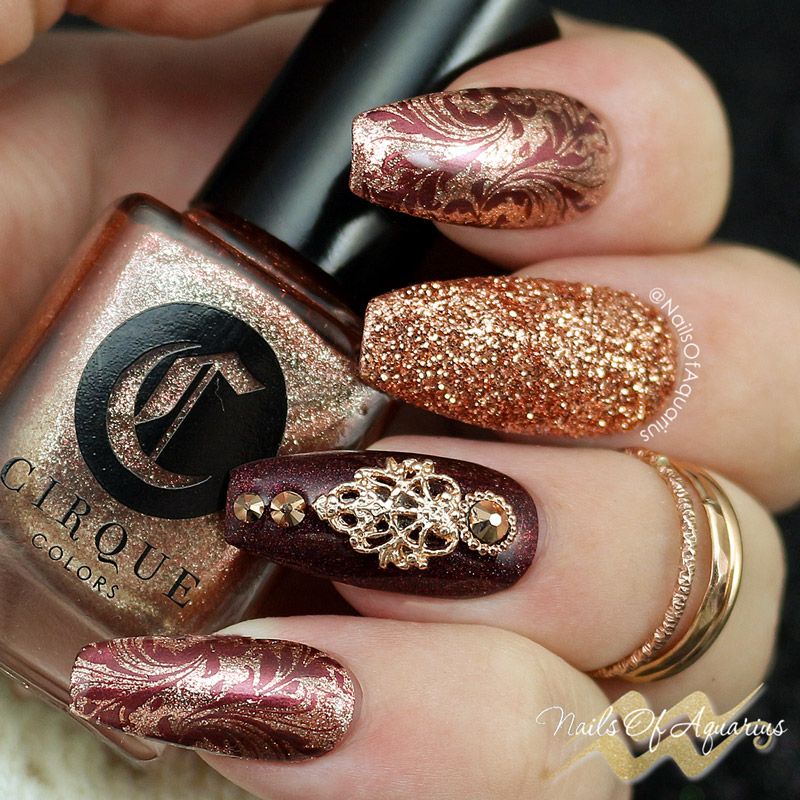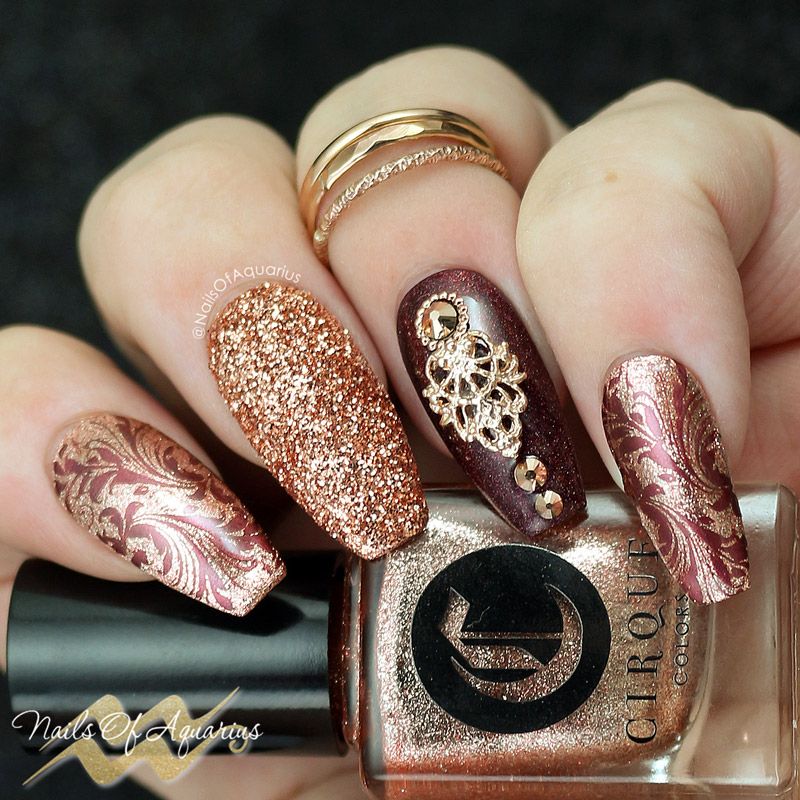 Next I applied a thin coat of Akzentz Shine On to my ring finger and placed a Rose Gold Circle Frame from Ocean Nail Supply. I filled the circle with Artbeads Swarvski Flatback in Rose Gold ss12.

Then I placed Daily Charme's Queen's Lace Rose Gold charm followed by more rose gold flatbacks in ss9 and ss7 and cured the nail.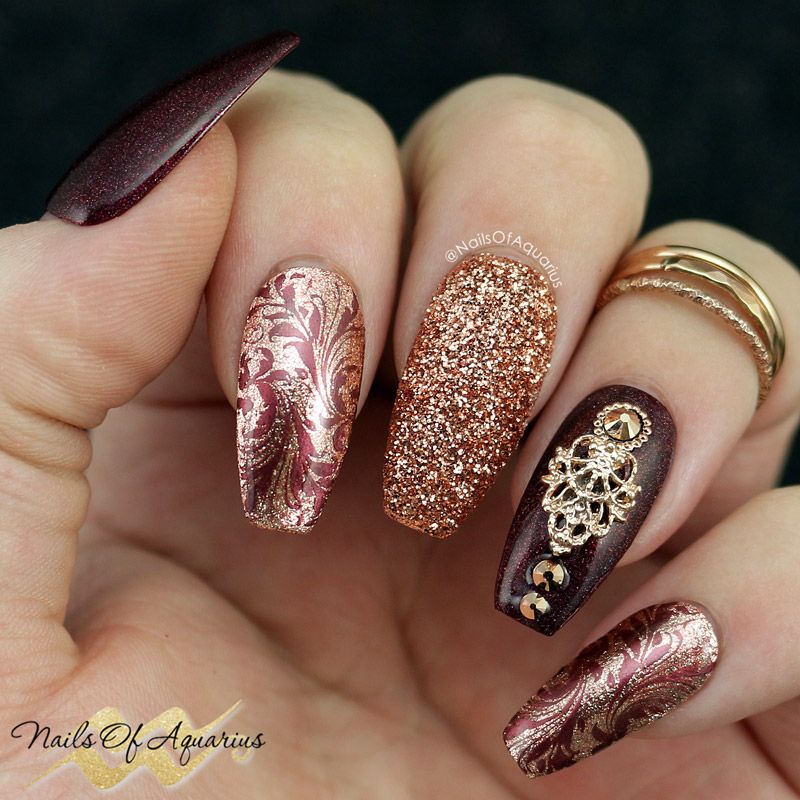 Last I applied Akzentz Shine On to my middle finger and scooped on Daily Charme's Metallic Rose Gold Glitter. I tapped off the excess and cured the nail.

The first time I used loose glitter with gel polish in a holiday design I adhered it using the inhibition layer, but it didn't hold up very well. It really becomes one with the nail when it's applied directly onto wet topcoat as I did here! The surface had a rough texture but the glitter stayed put.
Product Recap
(clockwise from top left with brand links)
Cirque Colors
Halcyon,
Cirque Colors
Ambrosia,
Glisten & Glow
HK Girl Fast Drying Topcoat,
Hit The Bottle
Oh Look...It's Wine Thirty,
Akzentz
Shine On gel topcoat,
Daily Charme
Rose Gold Metallic Glitter,
Lina Nail Art Supplies
You're a Damasque
(not shown)
Ocean Nail Supply
Rose Gold Circle Frame,
Daily Charme
Queen's Lace Rose Gold charm,
Artbeads
Swarovski Crystals ss7, ss9, ss12 in Rose Gold
As you may be able to tell from the slew of photos, this design was a favorite for me! Do you enjoy rose gold too? How about the loose glitter trend? I look forward to hearing from you!
Thanks for reading! I'll see you at the next post.