I am excited and a little surprised that I have my 1st holiday nail art ready to show you today. It feels good to know that I won't be doing my last minute Christmas Eve scramble!! Let's take a look...
It's been quiet around here again but with good reason. I've been more inspired recently to create than to sort photos and write posts so I have many new nail art designs to show you. Now I just need to get my brain to switch gears and allow me to get the holiday nail art posted before the holiday. Wish me luck!!
I started with 2 coats of
OPI GelColor
in
Christmas Gone Plaid
, the perfect shade of evergreen in my opinion, followed by a coat of
LeChat High Gloss Top Gel Sealer
. I laughed to myself when I was applying this shade because this is a color I never would have worn 3 years ago and today I love it!
Next I stamped my thumb, index and pinky fingers with
Mundo de Unas Gold
, a circle design from
UberChic 12-03
and my
Big Bling Clear Jelly Stamper
. I used a Christmas Tree from
UberChic Christmas 02
for my middle finger and floated a coat of
HK Girl Fast Drying Topcoat
over the stamping.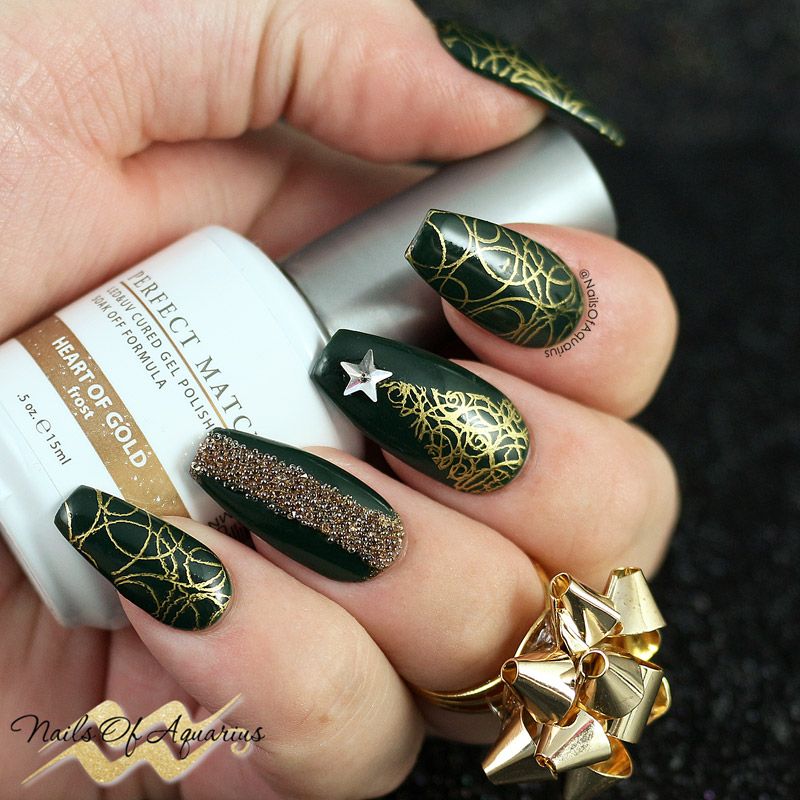 I sectioned off a stripe down the middle of my ring finger using
Polished Vino's Clear Straight Vinyls
and painted on a coat of
LeChat Perfect Match Heart of Gold
. I removed the vinyls after a 5 second flash cure and then fully cured the polish.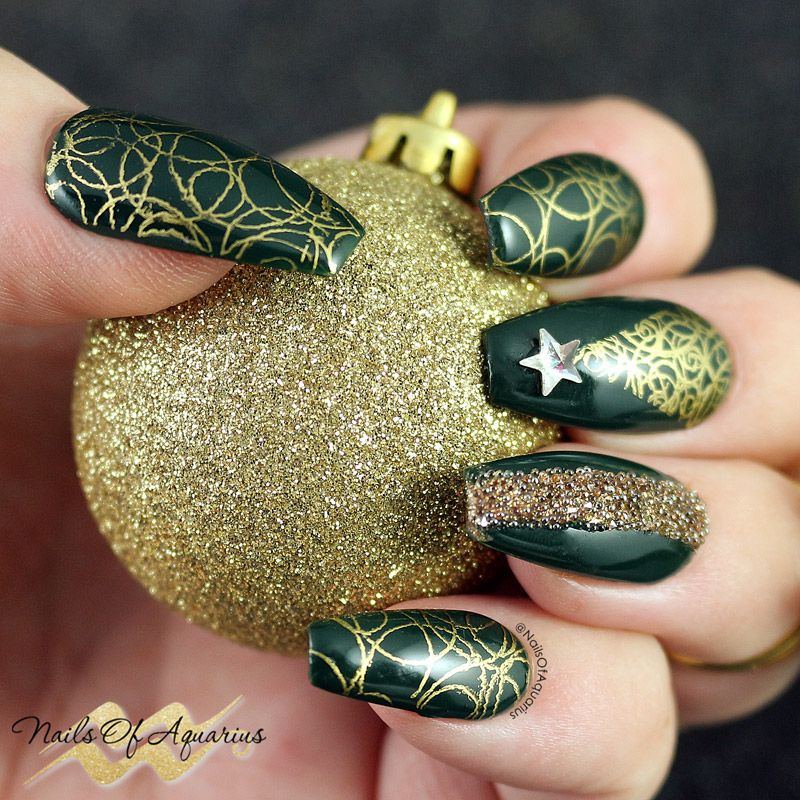 Using a nail art brush, I applied a thin coat of Akzentz Bling On over the Heart of Gold stripe. Then I gently poured Swarovski CrystalPixie in Sparkling Moments over the Bling On. I tapped off the extra and gently pushed down on the remaining pixie before curing.
And finally I placed the Swarovski Crystal Rivoli Star at the top of the tree with a small dab of Akzentz Bling On.
Product Recap:
(clockwise from 6PM with brand links)
I am grateful to the ladies of UberChic for providing me another unique Christmas tree to use in my holiday nail art! I'm not sure that I'll ever top last year's design but I am still really happy with the way this turned out. I'd love to hear what you think of it! I'd also like to know if you created any Christmas tree nail art this season. If so I would love to see it! Just attach a photo with your comment below.
Thanks for reading! I'll see you at the next post.