I'm back today with something new to me: stamping with holographic powder. It sounded interesting enough when I read about it that I bumped another holiday design to give it a shot. Ready to hear about it?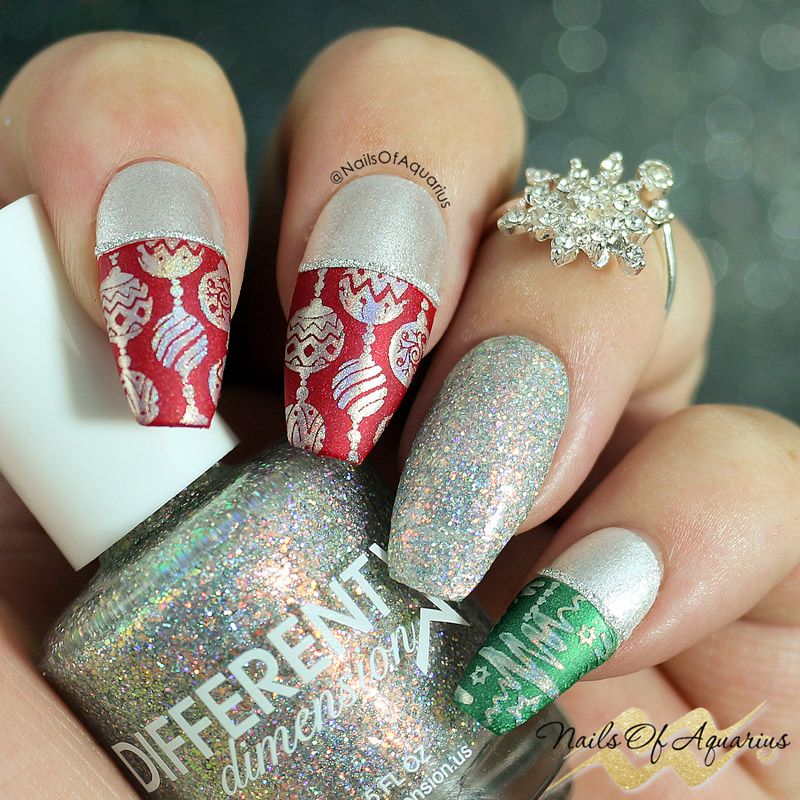 I saw a design in a recent Bundle Monster email and clicked through to see how it was done. It turns out the creator used holographic powder on a stamper with stamping polish. The idea is similar to 'double process stamping' where only a portion of what is on the stamper ends up on the nail. I wasn't sure if this was going to work out so I didn't spend the time on progress photos. Sorry! I'll explain the best I can.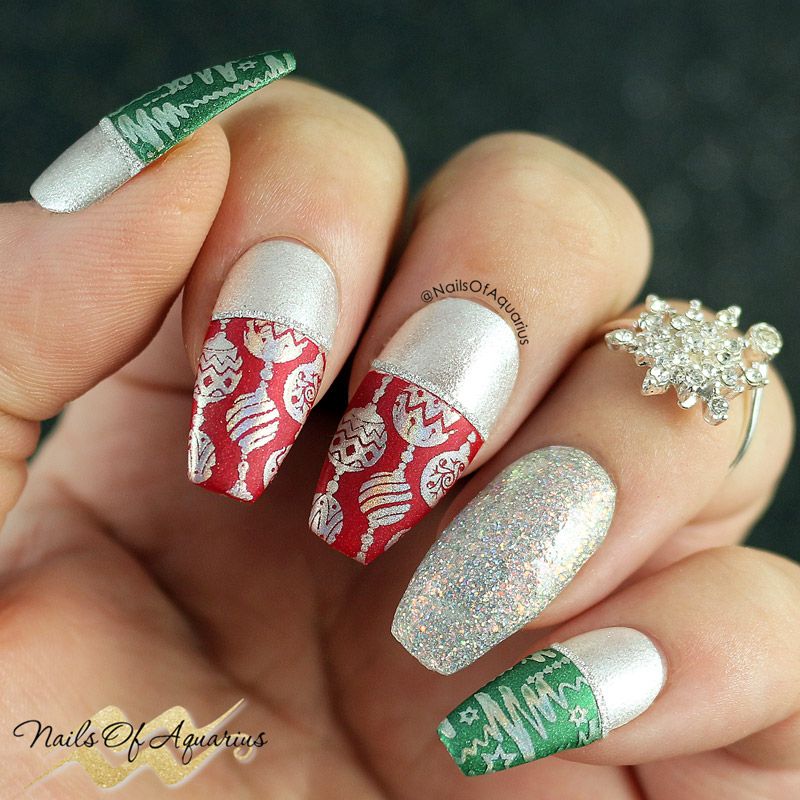 I started with 2 coats of Floss Gloss 1080PEARL on all nails followed by Glisten & Glow HK Girl Fast Drying Topcoat. I thought this color would look white and the silver was a bit of a surprise but not in a bad way.
Next I used Clear Straight Vinyls from Polished Vino to section off the bottom 2/3 of my nail. I polished with Different Dimensions Naughty (red) and Nice (green) and finished with Girly Bits Polish Matte'rs matte topcoat. I added an accent nail with Different Dimensions Ghost of Jupiter, which contains iridescent red to green color-shifting glitters.
⇒ The matte lacquer topcoat is essential to this process. The area to be stamped needs to have a matte finish and it does not work with matte gel topcoat.
Once dry I covered the top 1/3 of my nail with tape to protect it from stamping. It won't work right but it will leave a mess on the shiny finish. Then I dipped a fingertip into my What's Up Nails Holographic Powder and rubbed the powder onto the head of my Clear Jelly Stamper 'The Crystal Clear'.
⇒ Since Holographic Powder is pricey I chose to use my smallest clear jelly stamper.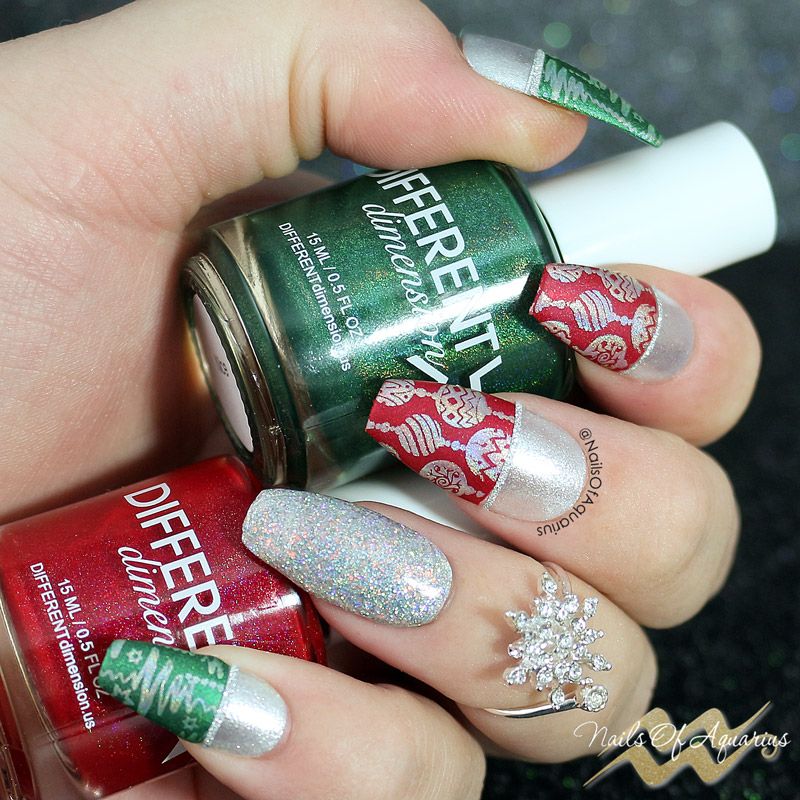 Next I applied stamping polish to the image, scraped, rolled the stamper over it and pressed it onto my nail. I used coordinating stamping polish colors, Mundo de Unas Reddish and Military Green, in case of show through but my end result was all holographic.
I cleaned my stamper with a lint roller in between nails and washed it with warm water when I finished stamping. I added 1mm Silver Glitter Tape from Chez Delaney in between the 2 colors.
⇒ I didn't finish my nails with topcoat. I tested HK Girl Fast Drying Topcoat and Nfu-Oh Aqua Base and both ruined the holo effect. I plan to do further testing when I have more time to try to find a topcoat solution.
Product Recap:
Different Dimension Nice
Different Dimension Ghost of Jupiter
What's Up Nails B003 Stamping Plate
Mundo de Unas
Reddish (32)
Clear Straight Vinyl Variety from
Polished Vino
I was sad that I couldn't get any sun shots as I know the rainbows would have been crazy. Fortunately I was able to catch a few with daylight bulbs.
I would love to hear your thoughts on this design. The technique was surprisingly easy to do and, unlike the holographic stamping polishes I own, it worked consistently. I'd like to try it with some of my chrome powders for a look you can't achieve with stamping polish. Is this a technique that you would try?
Thanks for reading! I'll see you at the next post.