Hey there! WOW just 3 more days until Christmas! This is the first of 1 or maybe 2 more designs I am ambitiously hoping to have done in time to share with you this week. So let's go!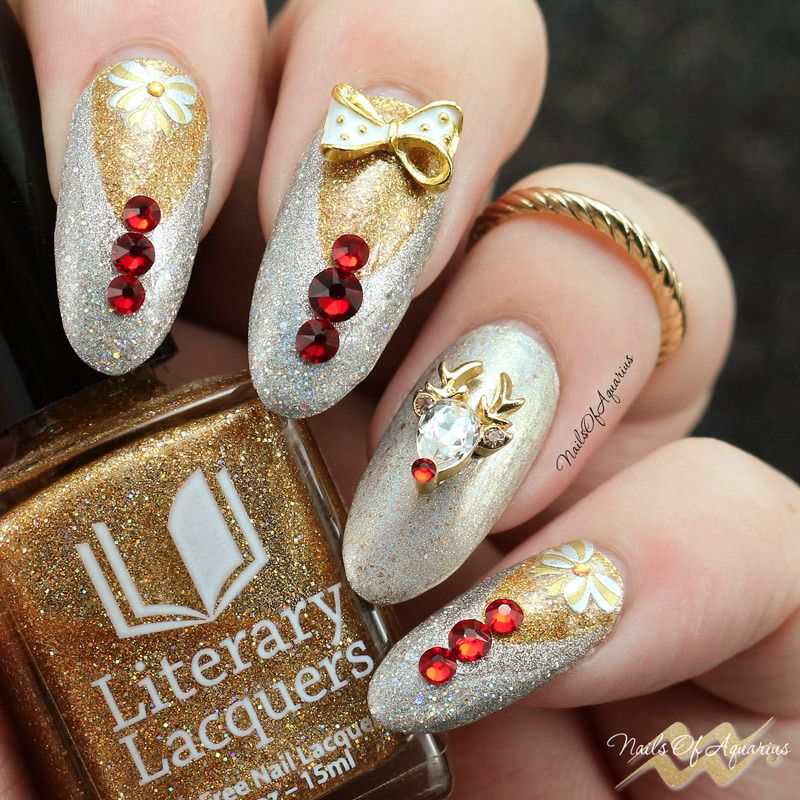 I created this design for the 'Silver and Gold Glitter' prompt in the "12 Days Of Christmas" challenge I've been participating in. Despite being a two tone jewelry lover for decades, I never would have thought to pair silver and gold glitter on my nails. I am so glad I was encouraged to try it out! And I am continuing to focus on my favorite products, as time is of the essence, so I've used Literary Lacquers polishes and an awesome Swarovski Reindeer charm I bought last year.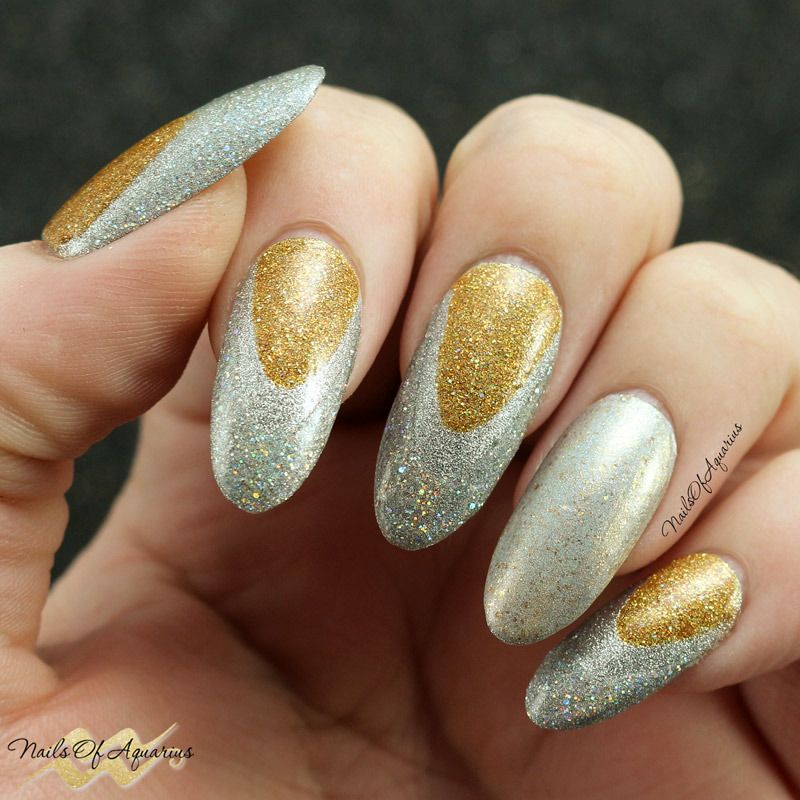 Since the Literary Lacquers polishes I planned to use are 2-3 coaters and I wanted to use vinyls I started with 2 coats of
OPI This Gown Needs A Crown
over my base on every finger except my ring finger to help with opacity.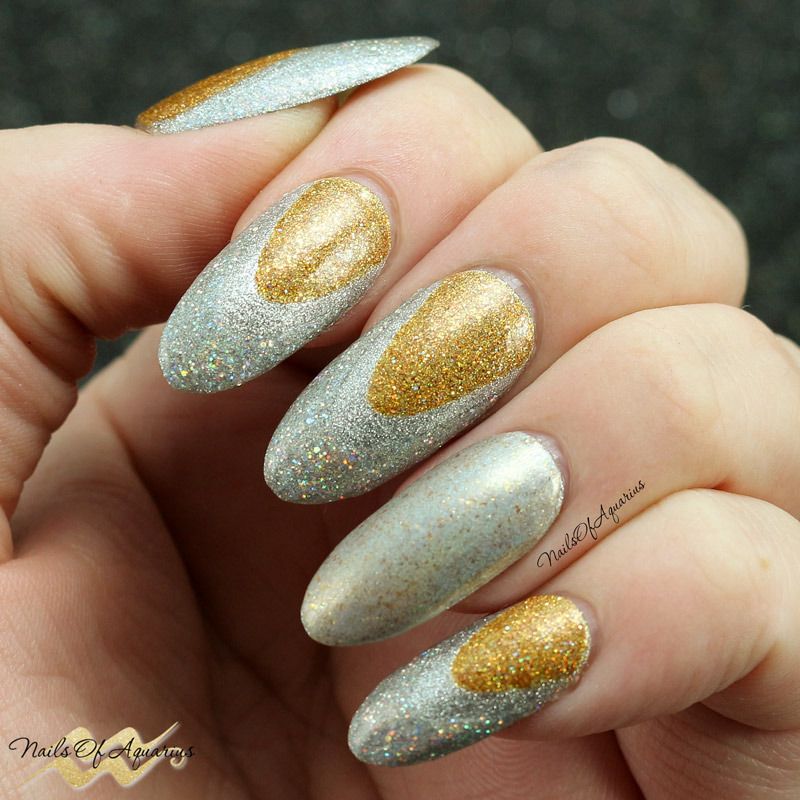 Once dry I applied liquid latex followed by
Twinkled T Reina Vinyls
. Then I quickly polished the tops and tips of my nails one at a time with 1 coat of
Literary Lacquers I Heard The Bells
and
Mirror Of Galadriel
respectively. I was so happy to have the opportunity to use these gorgeous holo micro glitter polishes again!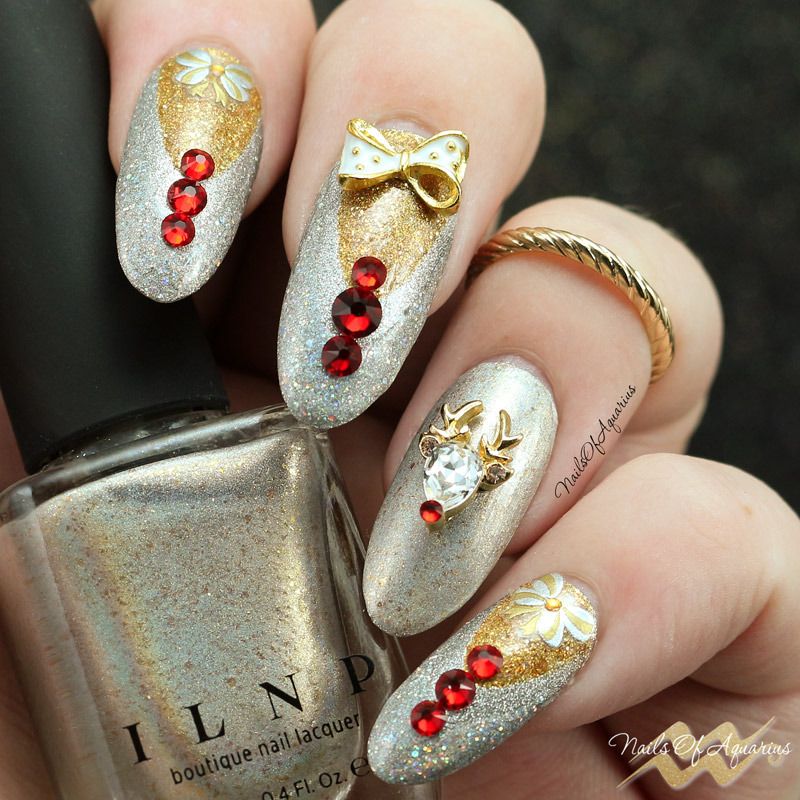 I polished my ring finger with 2 coats of
ILNP Cozy Mittens
, a unique combination of gray linear holo with gold flakes that I believe worked perfectly to tie together the silver and gold polishes. (YES! ILNP is finally on my blog!) I finished with
INM Out The Door Fast Drying Topcoat
on all nails.
And finally it was time to decorate! I applied my inspiration charm first, the
Rudolph The Reindeer Swarovski Charm
I purchased from
Daily Charme
last season. I just had to use him again!!
I added
Light Siam Swarovski crystals
from
Artbeads
in sizes ranging from 2.5 to 5mm to my remaining fingers with a dab of topcoat.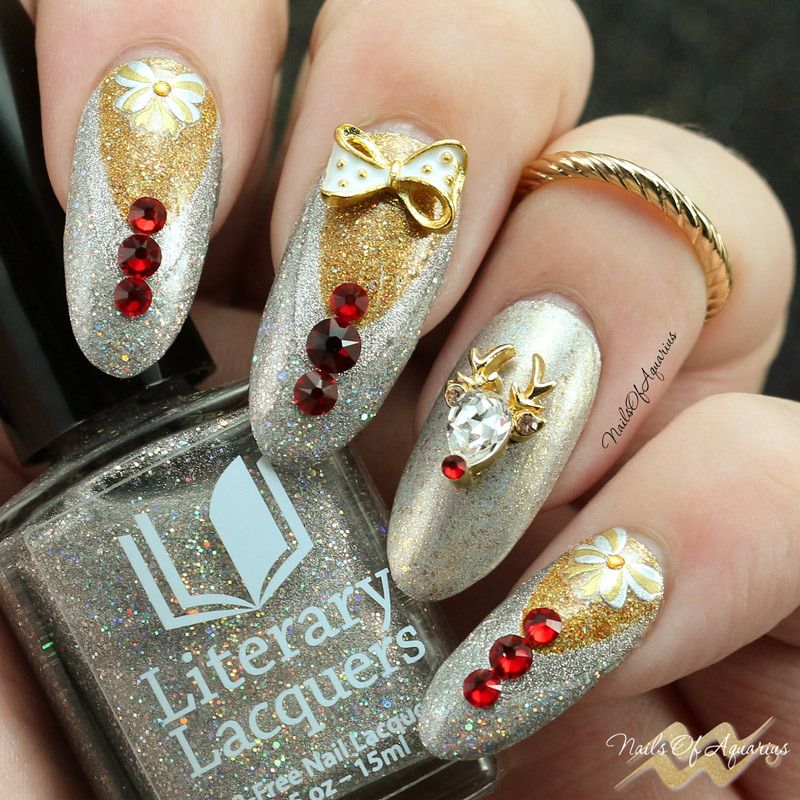 I thought bows would be a nice, subtle accent to my other nails and began by applying a
White and Gold Polka Dot Bow
from
Nail Art Elegance Boutique
to my middle finger.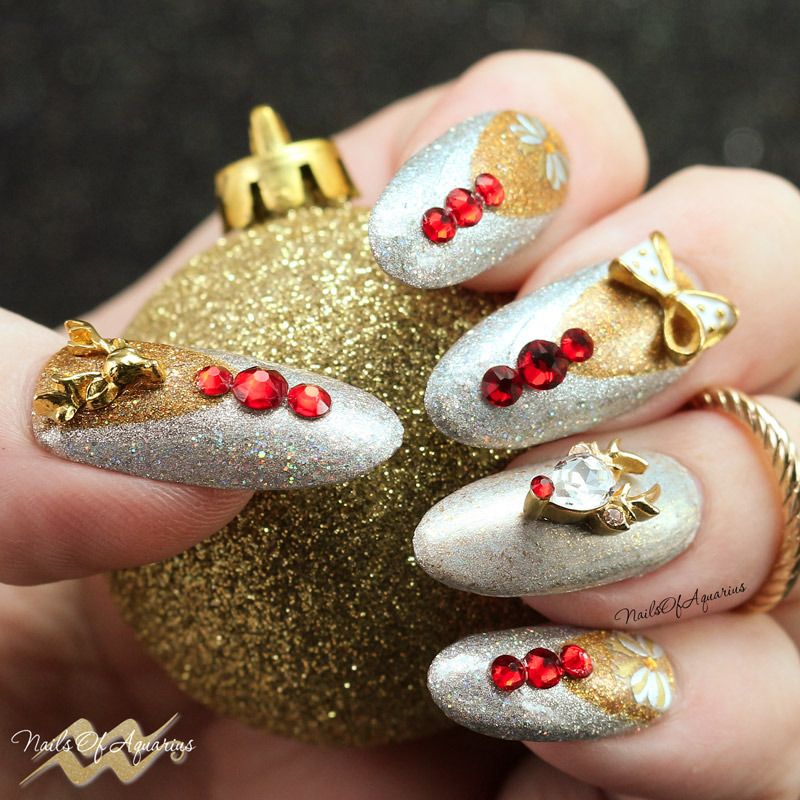 The smaller bows on my index and pinky fingers are from a
Silver and Gold Bow Nail Sticker
sheet from
WiiNo Shop
. And the finishing touch is the
Gold Reindeer Charm
on my thumb which arrived just in time to be a part of this creation as a holiday gift with my recent order from WiiNo Shop. Thank you very much Novia!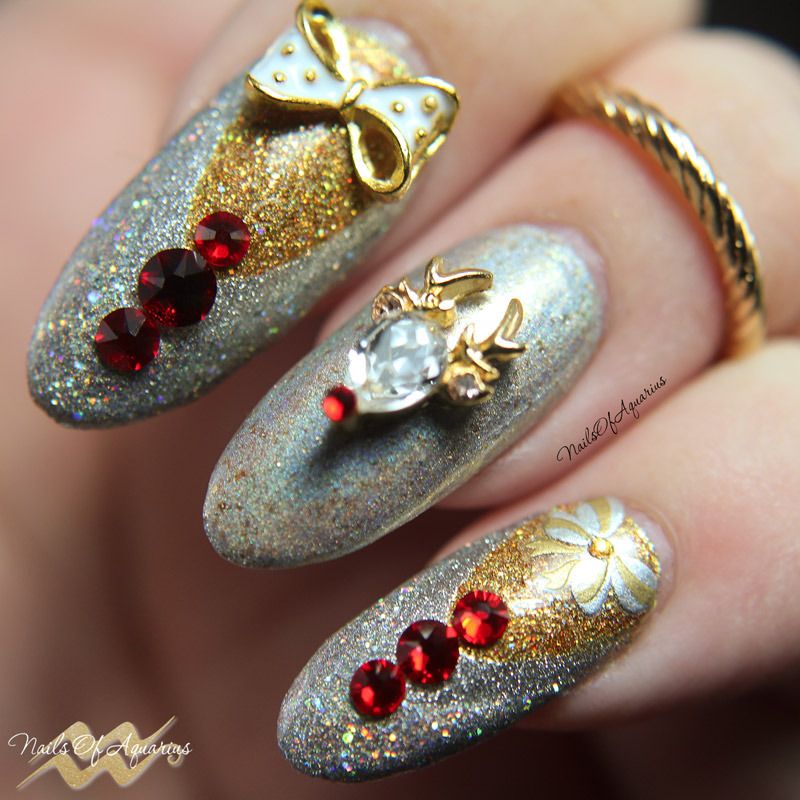 I will leave you today with a close up of all the holo, glittery blinging goodness! Ah...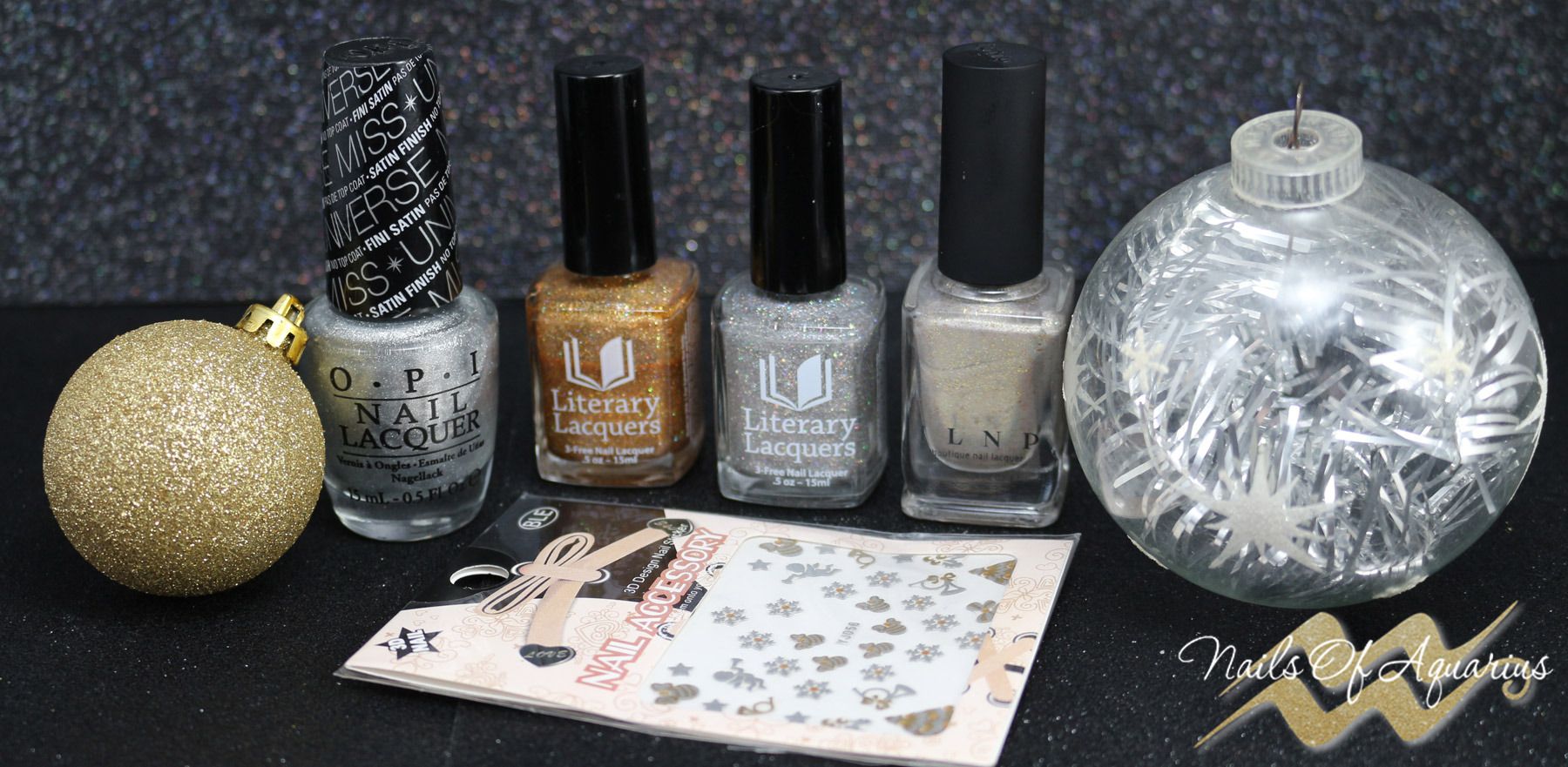 Product Recap:
Basecoat and Topcoat: Nail Pattern Boldness Glitter A-Peel and Out The Door Fast Drying Topcoat (not shown)
Base polish: OPI This Gown Needs A Crown and ILNP Cozy Mittens
Accent polishes: Literary Lacquers I Heard The Bells and Mirror of Galadriel
Embellishments: Rudolph The Reindeer Swarovski Charm from Daily Charm, Swarovski Crystal in Light Siam from Artbeads, White and Gold Bow from Nail Art Elegance Boutique, Silver and Gold Bow Stickers and Gold Reindeer Charm from WiiNo Shop
I would love to hear your thoughts on this silver and gold glitter combination. Would you wear them together? Please take a minute to check out the great designs from other members of the group.
Thanks for reading! I'll see you at the next post.

**Some of the products in this post were originally provided as Press Samples or purchased with a Press Discount.**