Hey there! I am back today with what I hope you'll see as a "better late than never" Thanksgiving nail art design. Time has really been getting away from me lately. The good news is that I also have some Winter and Holiday nail art to show you, but I felt funny doing so without a nod to Thanksgiving.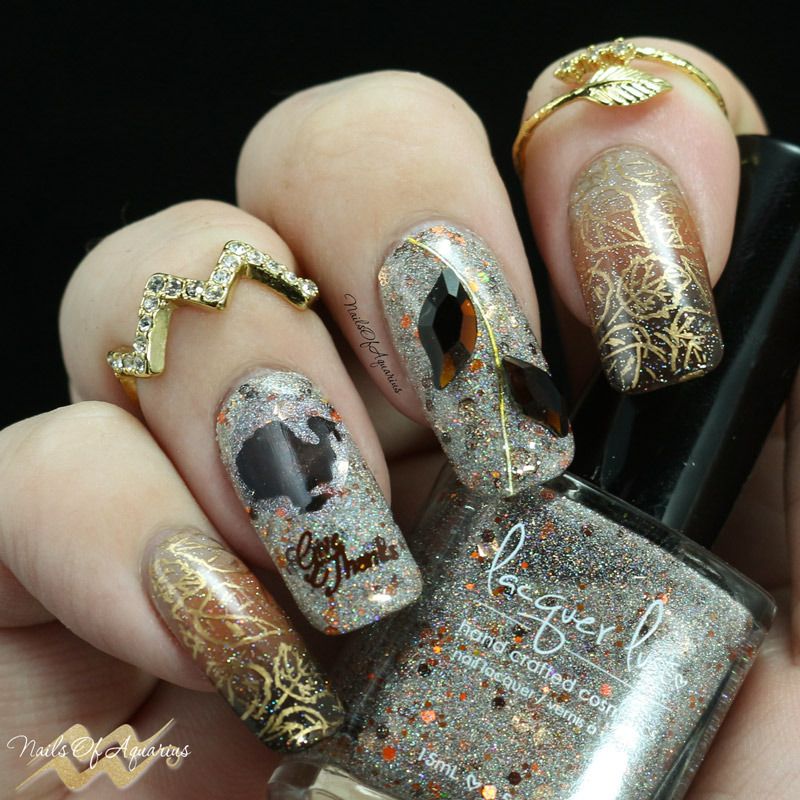 I also wanted to take this opportunity to thank you for sticking with me through this really unpredictable year on my blog. I wanted to share that I have experienced more loss and tragedy in 2015 than in the other 43 years of my life combined, most recently in early November. I am grieving and quite depressed. Most days I just want to curl up under the blankets and hide myself away from the world. Socializing is out of the question and I think that is why I have been unable to blog consistently. There have been several days that I was able to get out of my head for many hours by creating some great nail art, I just haven't been able to put a post together and share it. I had also made a point of replying to every comment I received promptly since the day I started blogging and I feel bad that have not been doing the best job lately. Please know that I do see and appreciate all of them and they never fail to bring a smile to my face.
I joined a group on Facebook that is doing a "12 Days Of Christmas Challenge" hoping the great prompts would give me some structure and just being part of something bigger than me would be motivating. It started on December 2nd so clearly I am way behind, but I have completed a few of the prompts and now I need to cross my fingers and hope I can get the photos edited and posted for you. Please send positive juju my way!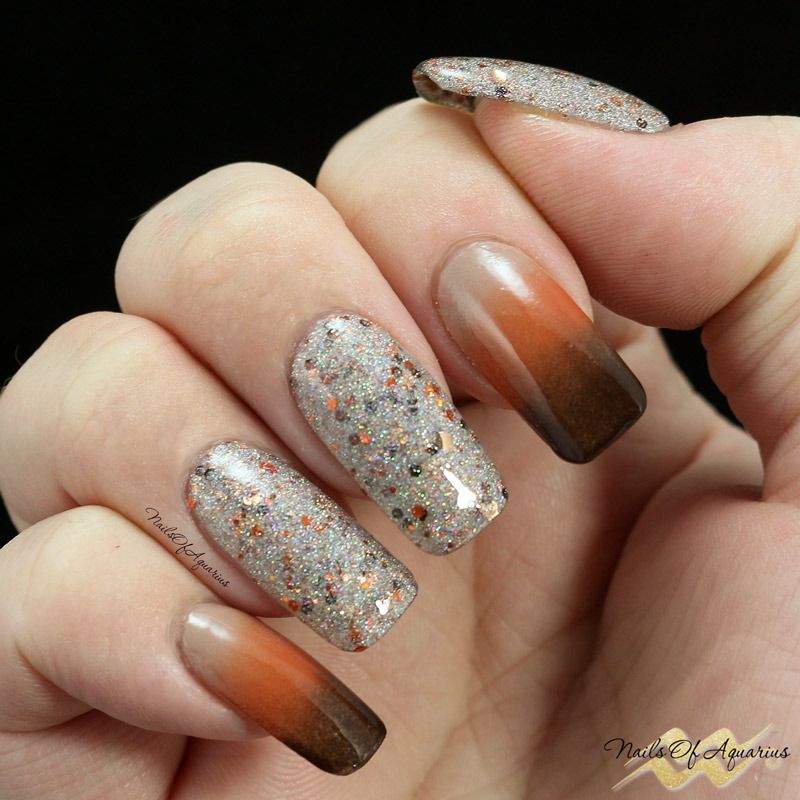 I have fallen hard for Lacquer Lust's Unicorn polish series since I used my first one in my
Treat or Treat?
Halloween design. The inspiration for this design came from their limited edition Thanksgiving release called "Thankful For Unicorns", hence the name of my post. I was honestly quite tempted to use a unicorn charm in place of the turkey, but succumbed to the traditional. Two other limited edition Unicorns ("I Made a Snow Unicorn" and "I've Been A Good Unicorn") were released yesterday, 12/9. They tend to sell out fast so you may want to shop ASAP if you hope to get them.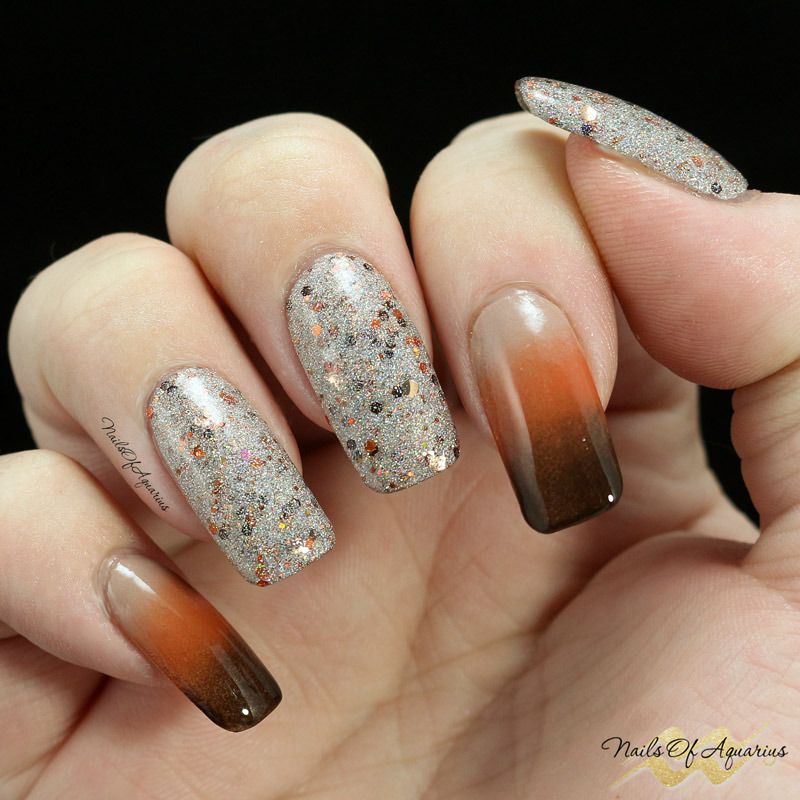 I started with 2 coats of
Lacquer Lust Thankful For Unicorns
over my base on my thumb, middle and ring fingers. Since it is loaded with brown, copper and orange glitters I paired it with a gradient of
Lacquer Lust Milk Tea
,
Pumpkin Spice
and
Coffee Bean
. This was my first time trying their classic creams and they applied like butter! Even the lightest shade went on streak free and self leveled beautifully. I topped everyone off with a coat of
HK Girl Fast Drying Topcoat
.
I added just a touch of
China Glaze Fairy Dust
over the gradient nails for a more harmonious look with the glitter. Once dry I stamped a leaf design from
UberChic Halloween 01
using
Mundo de Unas Bronze
and finished with more topcoat.
Next I placed a turkey vinyl from
Serum No. 5 'Let's Eat' Cut It Out Nail Vinyls
sheet on my ring finger and sponged this
Coffee Bean
polish over it.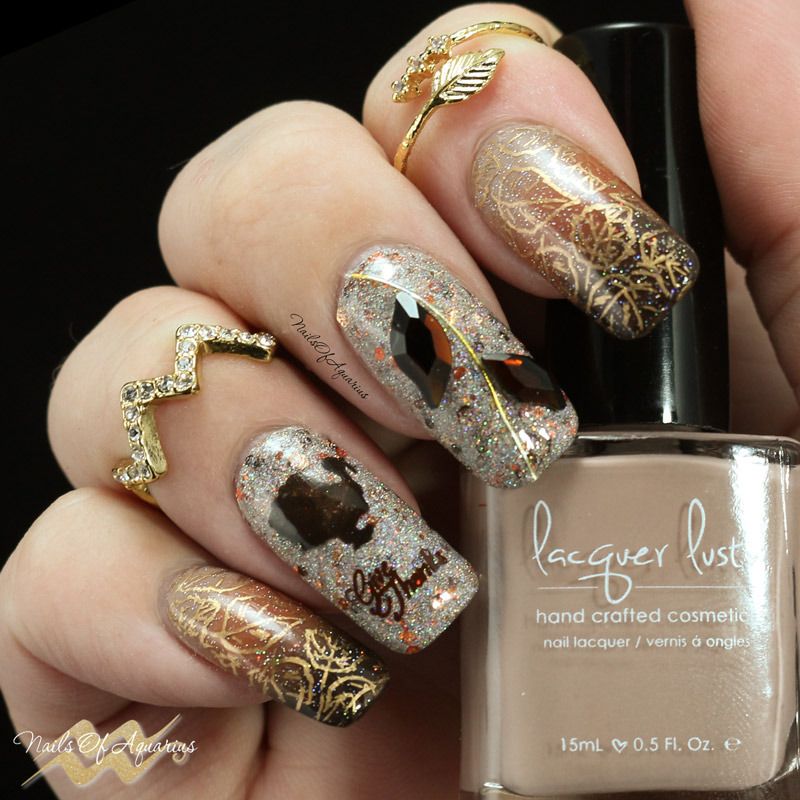 I completed my ring finger by stamping the "
Give Thanks
" design from
Messy Mansion MM23
using
Mundo de Unas Café
and added more topcoat.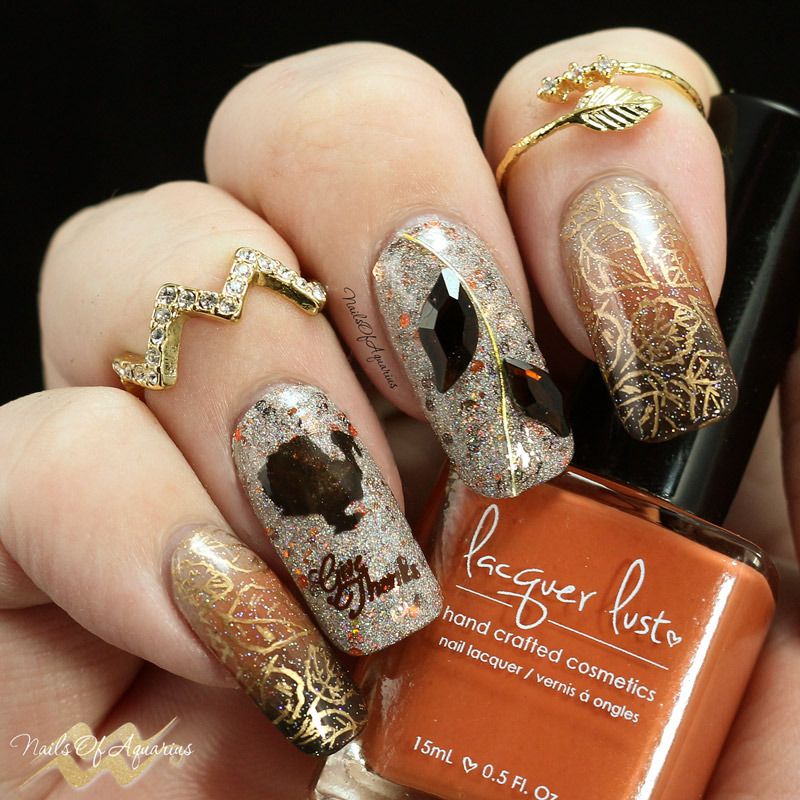 I stared at my middle finger for the longest time trying to decide how to style it. And then I remembered that I had picked up some brown leaf crystals on clearance a while back. First I laid down a small piece of a wavy gold nail sticker from
WiiNo Shop
as my "branch". Then I adorned it with a 10mm and 8mm
Swarovski Diamond Leaf Flatbacks in Mocca
from
Artbeads
using a dab of topcoat.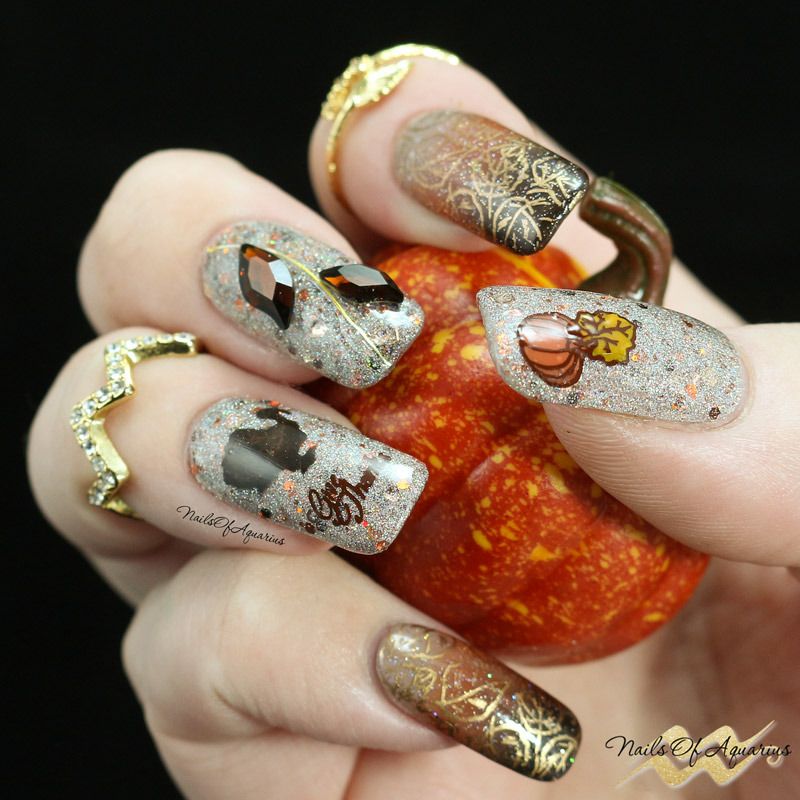 While I was pondering what to do on my ring finger I created a stamping decal for my thumb. I stamped a pumpkin and leaf design from
Chez Delaney Automne 001
with
Mundo de Unas Café
onto my
UberChic mat
. I went over the design with topcoat and colored it in with
Lacquer Lust A-Maize-ing
and
Pumpkin Spice
. I trimmed it to size, placed it on my dry nail and finished with topcoat.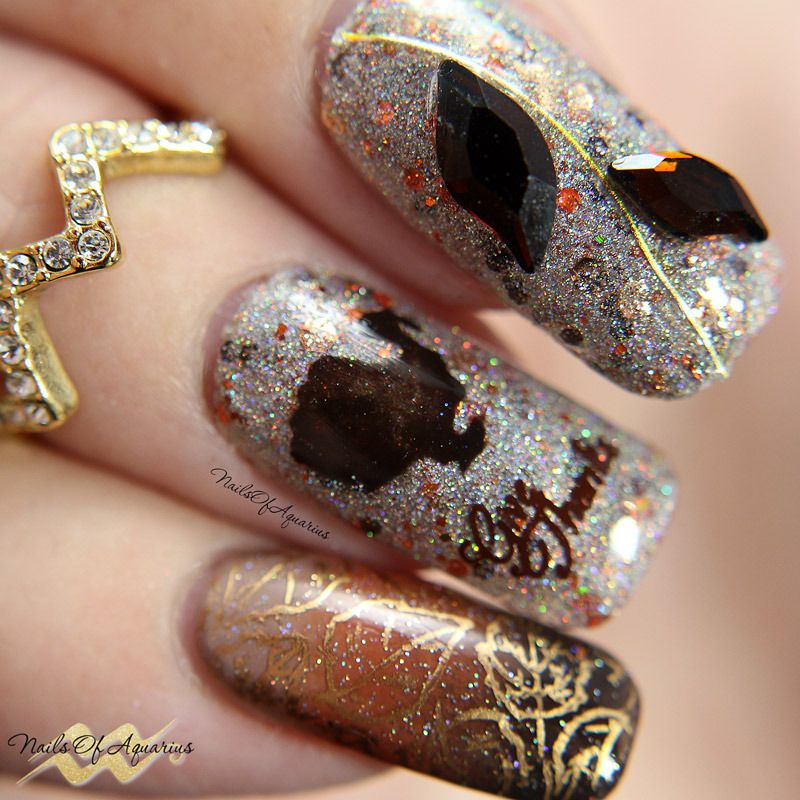 Here's a close up of that gorgeous Unicorn glitter for you! Looking at this photo I can't get over how different the colors in my gradient look with a touch of Fairy Dust and a little stamping! I am really glad I had a "before" shot to include with this post.
I used a serious amount of products to create this design, so I decided to only show the main polishes in the photo. I will, however, list everything I used below.
Product Recap:
Basecoat and Topcoat: Nail Pattern Boldness Glitter A-Peel and HK Girl Fast Drying Topcoat
Base polishes: Lacquer Lust Milk Tea and Thankful For Unicorns
Accent polishes: Lacquer Lust Pumpkin Spice, Coffee Bean and A-Maize-ing and China Glaze Fairy Dust
Stamping plates: UberChic Halloween 01, Messy Mansion MM23, Chez Delaney Automne 001
Stamping polishes: Mundo de Unas Bronze and Cafe
Embellishments: Serum No 5 vinyls, WiiNo Shop Stickers, Swarovski Mocca Diamond Leaf Flatbacks
I was really pleased with the way this design turned out. You may not have noticed that this manicure is on my right hand, aka my Cinderella hand. The hand that does all the work and never gets the glory. I'll use it for swatches and simple nail art now and then, but I feel like its been a little while since I've done full blown nail art. When I was done I felt like I had redeemed myself and refreshed my skills. And Cindy was shining brightly in the spotlight while I had something else in progress on my left hand.
I hope you enjoyed this design, as late as it is, and also hope you had a wonderful holiday with your family and friends.
Thanks for reading! I'll see you at the next post.