Hi there! In this edition of The Swatch Watch I have a lovely, rich polish to show you from a new-to-me indie brand, which is always exciting! I've amassed a healthy collection of their polishes but somehow this is the first time they are appearing on the blog. So, without further ado, let me show you Pahlish 'Drawing Number One'!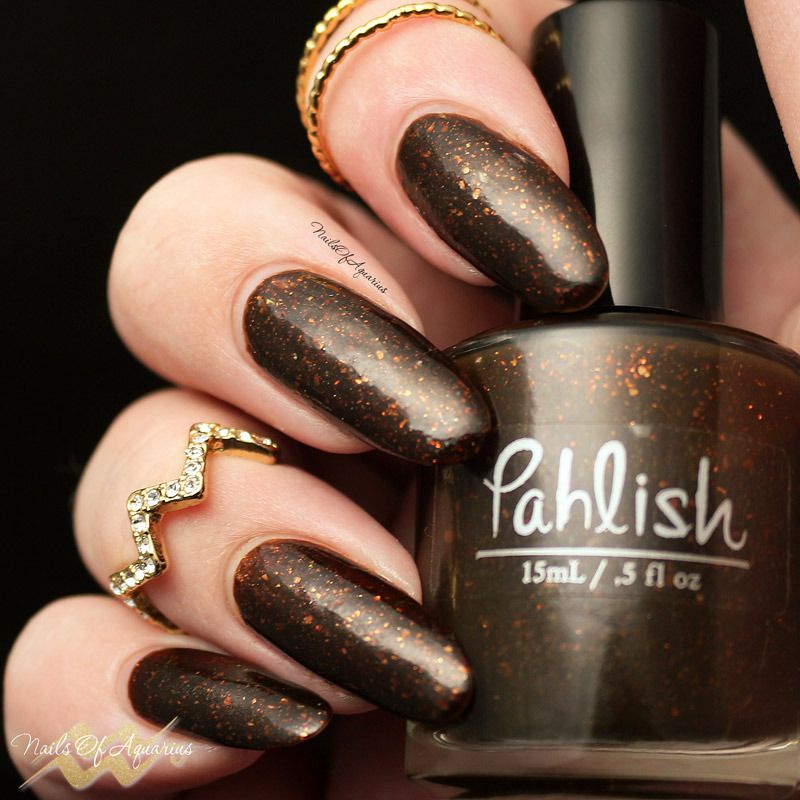 Some of you may recall that I first fell in love with brown polish right about this time last year when I received my first order from
Serum No. 5
and polished my nails with
Dark Matter
. It is such a beauty and still available for sale on their website! So I picked up a few more bottles of brown polish from various fall collections this year and
Pahlish's Drawing Number One
was the standout that I had to try on my nails ASAP!
Pahlish Drawing Number One
is a caramel brown jelly polish with gold and copper flakies. The brand's description said that 'ultrachrome' copper flakies were also included, but I wasn't too sure how to distinguish them from the gold and copper flakies I was able to see in my close up photo. I guess when I hear 'ultrachrome' I expect to see shifting colors, but I didn't notice that here.
I am going to admit a weakness. I've always had trouble applying jelly polishes and have stayed clear of them for so long that there isn't even a category on the blog for them as I am writing. So when I tell you I didn't experience flawless application with this polish, that instead it was a bit gooey
and left bald spots on the first coat I want you to know that IT'S MY FAULT. Clearly I need more practice, but I was able to get it to even out nicely by the 3rd light coat. I finished off with
HK Girl Fast Drying Topcoat
but I bet it would have looked amazing matte too!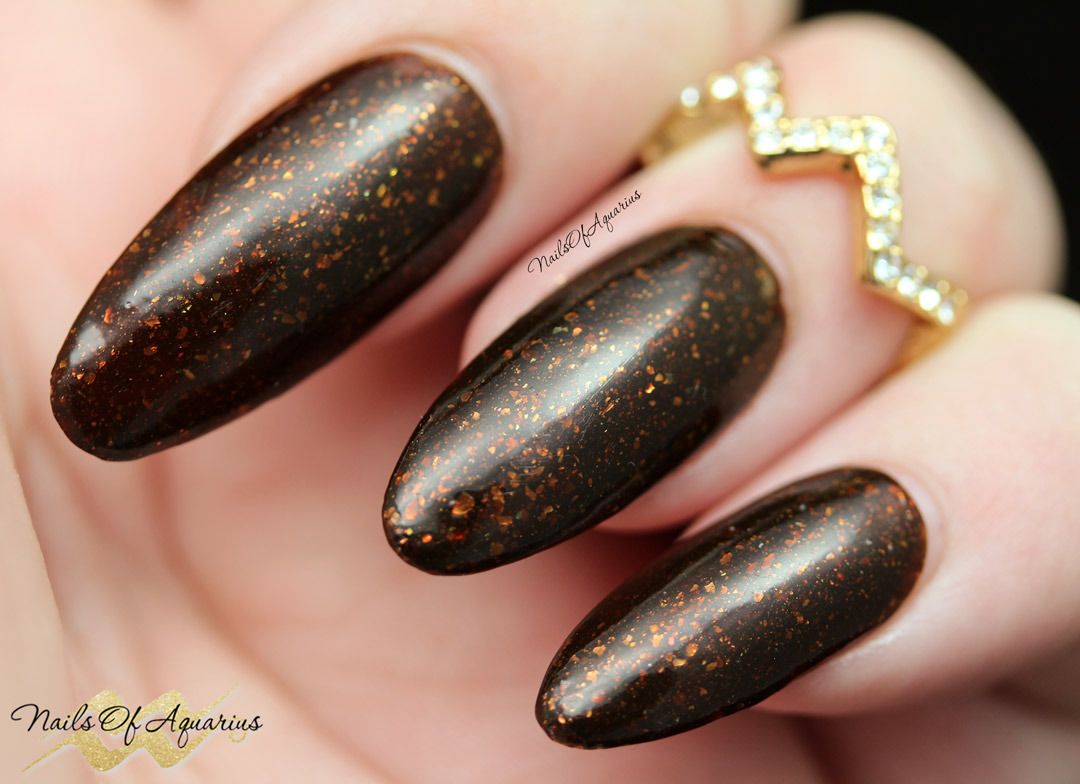 And here's that close up I mentioned. There's so much flake in this polish that it is visible at all times, but this photo is fun because you can really pick out the gold and copper. Gorgeous!!
Pahlish does a lot of Bespokes (small run, limited edition polishes) as well as a monthly duo and monthly theme collection. They typically restock their website on Sunday at 7PM Central, but up to date information is always available on their
Facebook
page.
I hope you enjoyed this polish because you'll be seeing it again real soon in nail art!
Thanks for reading! I'll see you at the next post.