Hey everyone! I'm back today with the first nail art design I have created "just for the fun of it" since March. Time goes by so amazingly fast! I had a slightly different name in mind for this one because, well, my life isn't exactly a day at the beach right now, but I'm not here to offend anyone. Let's check it out!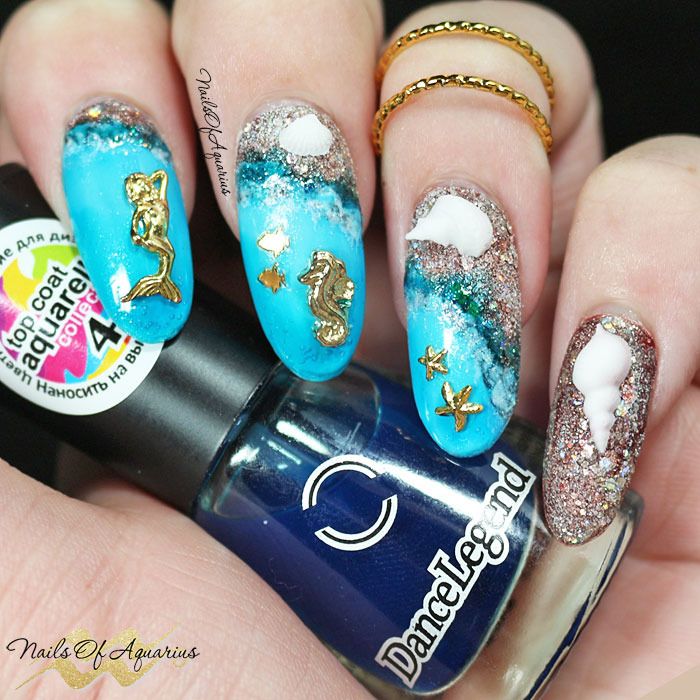 A week or two ago I noticed that my blog was getting traffic from a website I didn't recognize. Being the insanely curious person that I am I had to go check it out. It turns out that it was another blog that had put together a compilation post of beach themed nail art designs and they included my
"Life's A Beach"
design from last summer.
I scrolled through their post and kept going back to a design created by Narmai at
PiggieLuv
earlier this summer for a guest post. She is an incredibly talented free hand nail artist and I am such a fan girl! I, on the other hand, can barely free hand a straight line, but I was still inspired to attempt a "Karolynized" version of her design.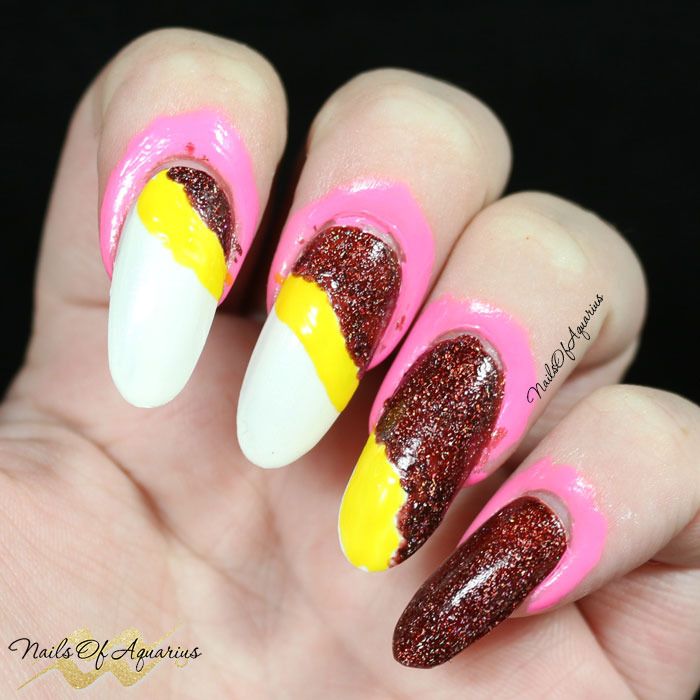 I started by applying 2 coats of
Zoya Genesis
over my base. Once dry, I used a detail brush to first outline my beach and then fill it in with
Dance Legend Road To Nowhere
. It looks really dark for sand, right? No worries!
I let it dry and then I went to town with the liquid latex! I have to ask...HOW DID WE EVER LIVE WITHOUT THIS STUFF??? I used
Glisten & Glow's CRTL-ALT-DEL
around my nails and
Color4Nails Crystalline Nail Veil
on my nail. Crystalline Nail Veil comes in a tall, skinny bottle and applies with a striping brush, making it perfect to use in nail art.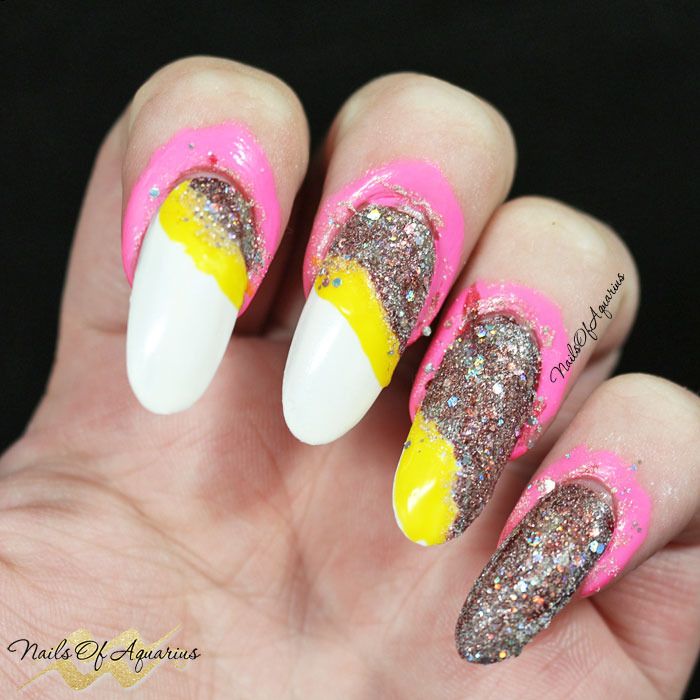 This was a really fun design to do overall, but I REALLY enjoyed this part! I created my "sand" by sponging
Zoya Godiva
over the
Dance Legend
polish, followed by
Zoya Bar
, and finishing with a few dabs of
Road To Nowhere
here and there. I made an awesome mess!!
A few minutes with a pair of tweezers and it was like that mess never happened. And I had some cool looking sand, in my opinion.
And then it was time to add water. I've had
Dance Legend's Top Aquarelle Collection
for some time now and was thrilled to finally have a chance to try them.
First I used Botticelli (4) over my entire nail and up onto my sand.
Then I added the somewhat darker Sisley (5) in a varied application on each nail starting from the tip and in small areas of the sand.
I think I received a defective bottle of Malewicz (6) because it was clear with only a very, very slight blue tint instead of "blue with a warm purple midtone". It worked out OK though because I used it over the 2 colors when they were still wet and it helped them to blend.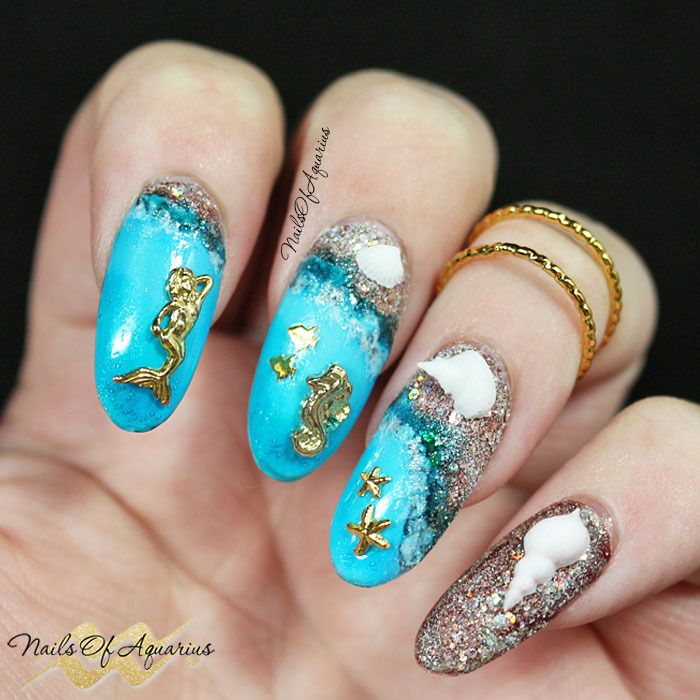 And finally my favorite part...BLING! All of the gold pieces were purchased from
WiiNo Shop
. I used their
Gold Mermaid
on my index finger,
Gold Seahorse
on my middle finger and 2 starfish from their multi-size
Starfish Collection
on my ring finger. I added 2 fish from a
Gold Coral Fish Sticker Set
to swim with my seahorse.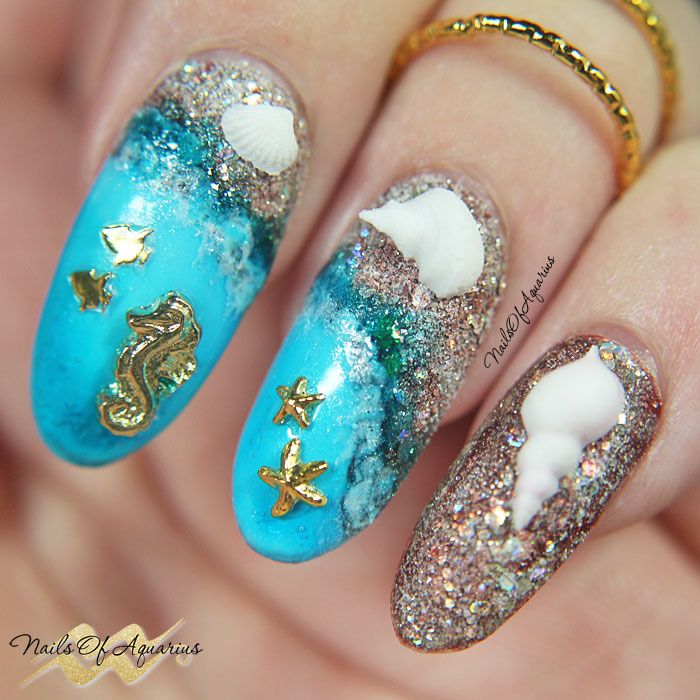 I had planned to use seashell charms as well, but neither silver or gold showed up well on my sand. I was sad for a minute and then I remembered I had purchased a set of acrylic molds a while back. I pulled them out and was completely psyched to discover my set included seashells!
I have no professional training and this was my first time using molds, acrylic powder and bonding liquid. It was an adventure, but I was thrilled with the way they turned out! I noticed that WiiNo Shop is just starting to carry these molds and they have this one in stock.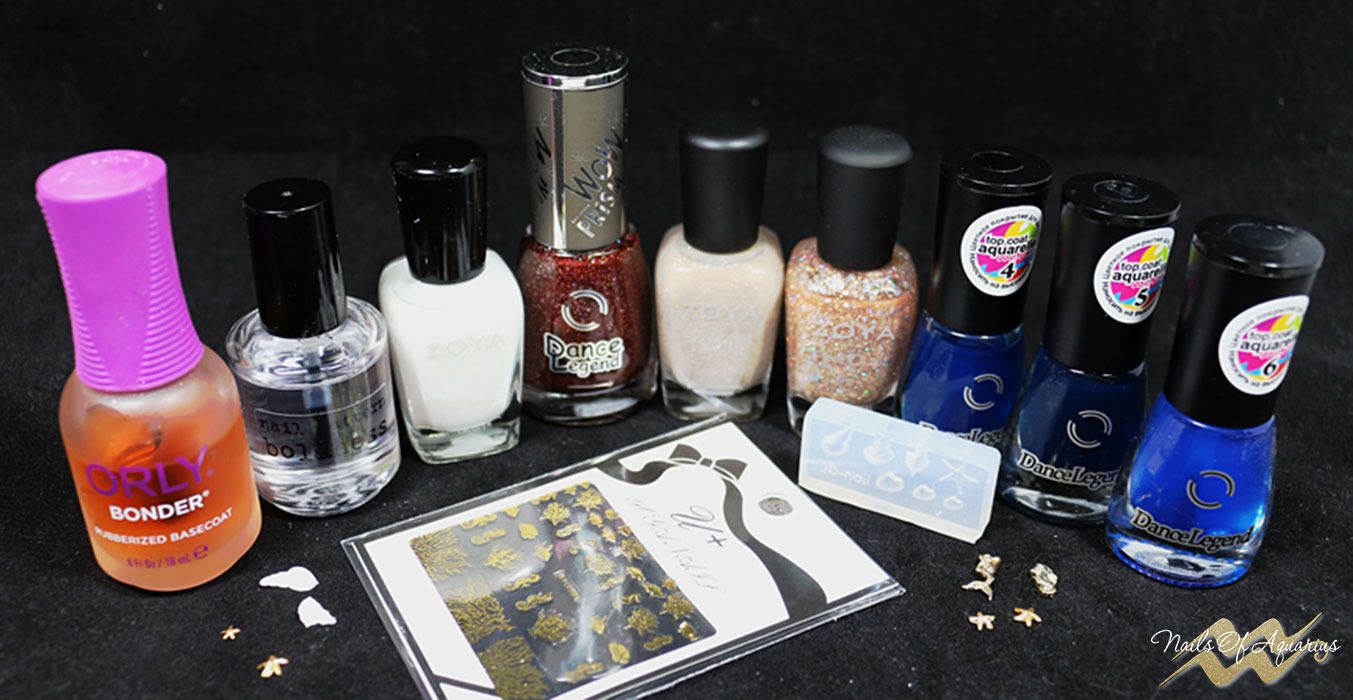 Product Recap:
Basecoat and Topcoat: Orly Bonder and Nail Pattern Boldness Digital Flash
Base polish: Zoya Genesis
Accent polishes: Dance Legend Road To Nowhere (17), Zoya Godiva, Zoya Bar, Dance Legend Top Aquarelle Botticelli (4), Sisley (5) and Malewicz (6)
Embellishments: Gold charms and stickers from WiiNo Shop (details above), acrylic seashells made by me
So I will be honest and tell you that I've been procrastinating about writing this post for days. I didn't know if it would be difficult to jump back in. Happily it turned out to be rather easy and even enjoyable to put this together. My blogger voice is fully intact and just as verbose as ever! LOL!
I hope you enjoyed this design! As always, I would love to hear your thoughts. I've learned that Blogger and Disqus have stopped playing nicely while I've been away, but I will find and reply to every comment! I've really missed you guys!
Thanks for reading! I'll see you at the next post.