It's a milestone day for me! This is the 100th post that I have published on my blog! WOW did that go by fast! I had another design planned for today, but changed gears to something a little more "Karolyn" when I saw it was a special occasion.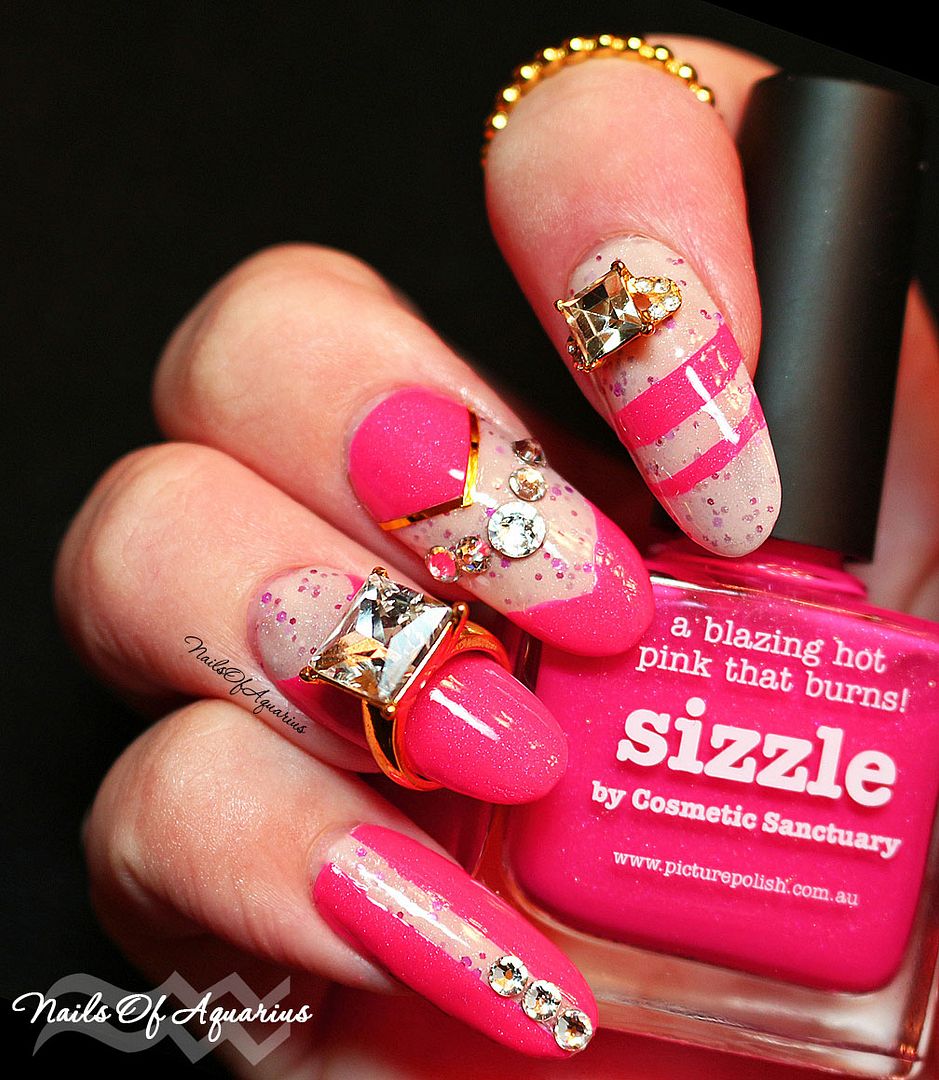 No, it's not practical. Yes, all the bling was getting caught on everything. But I hope you can look past all that and simply appreciate it for the fun, pretty, sparkly design it is! I had the best time creating it!
I've been on a Negative Space design kick recently. This polish happened to be sitting next to
piCture pOlish Sizzle
on my vanity and it got me thinking that I could do a cool twist on on the traditional negative space using them together.
So I started with 2 coats of
piCture pOlish Douceur
over my basecoat followed by a coat of
HK Girl Fast Drying Topcoat
. This color is described as a french pink jelly with multi-sized hex glitters in magenta and mulberry with scattered holo. It seemed more like a creme than jelly too me, but it is gorgeous regardless!
Once
Douceur
had dried completely I pulled out my
NailVinyls Variety Pack
so I could tape off a different design on each nail. Working on one nail at a time, I applied the vinyl(s) and 2 quick coats of
piCture pOlish Sizzle
. For best results, you'll want to remove the vinyls within 10-20 seconds of applying your polish.
Sizzle
is described as a hot pink subtle jelly with scattered holo. Again this seemed more like a creme to me, but I've been using some pretty thick jellies lately so perhaps it's all relative.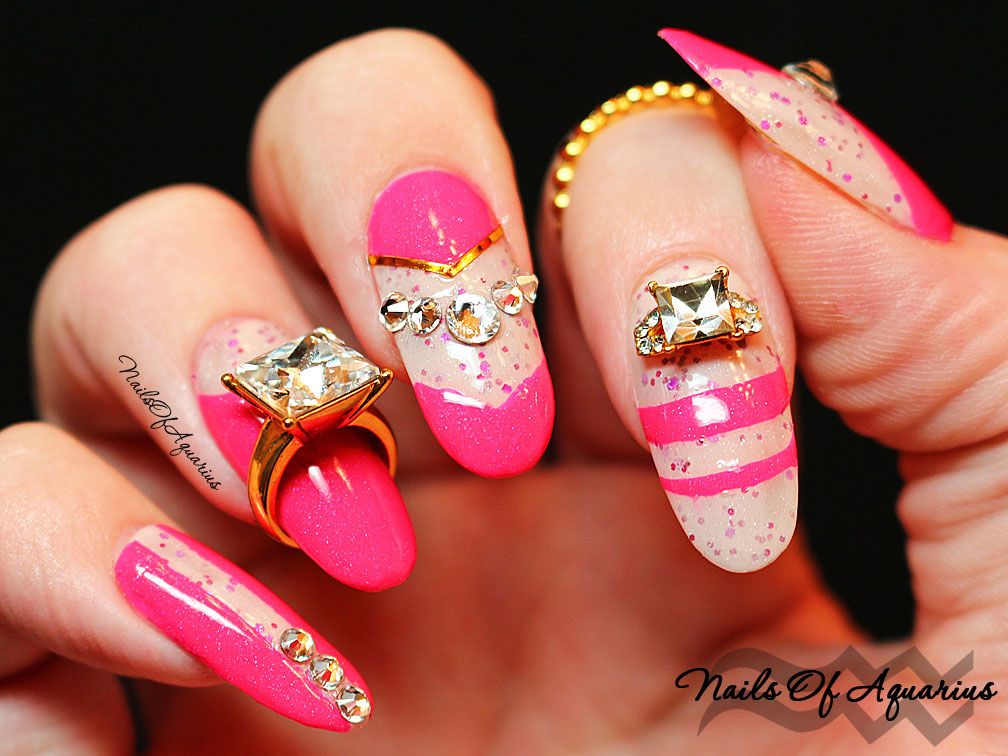 Finally it was time to add some bling! I chose to start with 2 larger feature pieces from
Daily Charme
. The first is
Tilda's Ring charm
in gold that I used on my index finger. The second is their
Square Diamond Ring
in gold on my ring finger. Both were applied with a dab of nail glue.
I used Clear
Swarovski Elements crystals
in sizes from 3mm-5mm to accent my thumb, middle finger and pinky. I attached these with a little topcoat and did not topcoat over them. I decided my middle finger needed a little something extra, so I accented the top chevron with gold striping tape.
Product Recap:
Basecoat and Topcoat: NailTek Foundation II and HK Girl Fast Drying Topcoat
Polishes: piCture pOlish Douceur and piCture pOlish Sizzle
Accessories: NailVinyls.com Variety Pack
Embellishments: Daily Charme Square Diamond Ring and Tilda's Ring, Swarovski Elements Clear Crystals 3-5mm
I am so excited to be sharing this 100th post with you today! I hope you enjoyed the design and I would love to hear your thoughts!
I am very close to reaching 2 other milestones: 1,000 followers on Instagram and 500 followers on Facebook. WOW! I am truly honored that you have chosen to follow me. Thank you so very much! So you know that reaching all of these milestones can only mean one thing, right??? GIVEAWAY!! I'll start planning it now and will probably wait until the beginning of the year to start it. The holidays are just such a crazy time and I wouldn't want any of you to miss it!