Here we are again, together on Wednesday for a preview of the new plates MoYou London has in store for us on Friday. This week will bring us the final 3 plates in the Gothic Collection and a surprise! OK, I was going to try to add some suspense around it, but I just can't! They are finally releasing 2 Halloween themed plates in the Festive Collection!!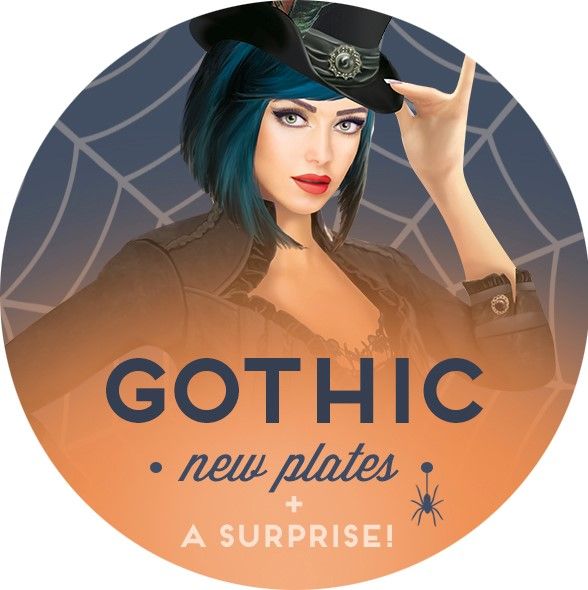 I was surprised when they launched the Gothic Collection with a few plates that had a Halloween feel to them instead of just adding true Halloween plates to their existing Festive Collection, the place where all of the holiday plates live. I guess I should have known it was just a patience issue on my part!
But I do wish they would have released these sooner. With only 3 weeks between the release date and the holiday I am sure there will be concerns about getting your plates in time using the free shipping option. Not to mention that I like to work on my manicures in advance, so my true preference would have been to have these plates in my hands already, like last week. If you are reading this MoYou London, maybe you could take all of this into account with future holiday plate releases.
There will be 5 new plates released this Friday: 3 Collage plates to wrap up the Gothic Collection, and a Halloween plate available in both Regular size (1.5cm x 1.cm) and XL size (2.0cm x 1.5cm). I probably shouldn't, but I WANT to show you the Halloween plates first and it's my blog after all!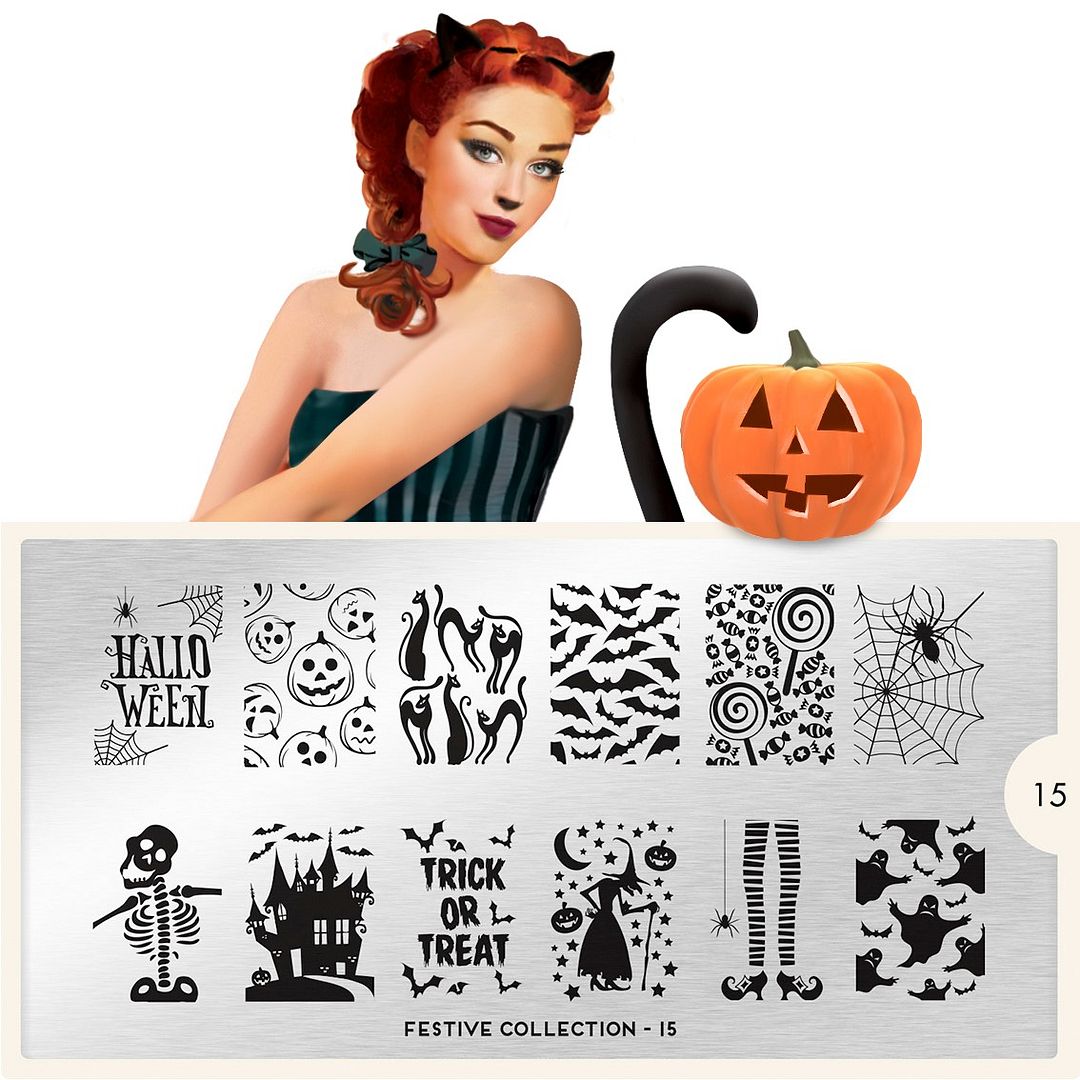 Yes! Finally the Halloween plates I've been hoping to see from MoYou London! I had a chance since my first Gothic Collection post to pull out all of the plates I own that I can remotely relate back to Halloween. To help you understand my perspective I only have 7. The bat design in the top row is the only one I have something similar too, but the one I have is not large enough for my nail. I LOVE the cats, the spider in the web, and all of the detail in the creepy house and witch designs. The Jack-O-Lanterns aren't very scary, but they would make great decals.
The Regular size version has all of the same great designs you saw above, and I am happy to report that they've been rescaled to the proper size instead of cropped. You of course get 6 more designs and I really like the tombstone and the dangling spiders! I guess I'll just have to get both sizes!
So I think everyone has come to the conclusion by now that this has been more of a "soft goth" collection and I am sorry that some people were disappointed not to find some designs they were hoping for. But I think MoYou London has decided to go out with a bang with the final 3 plates, all Collage style, and all really unique. Case in point, the first one above.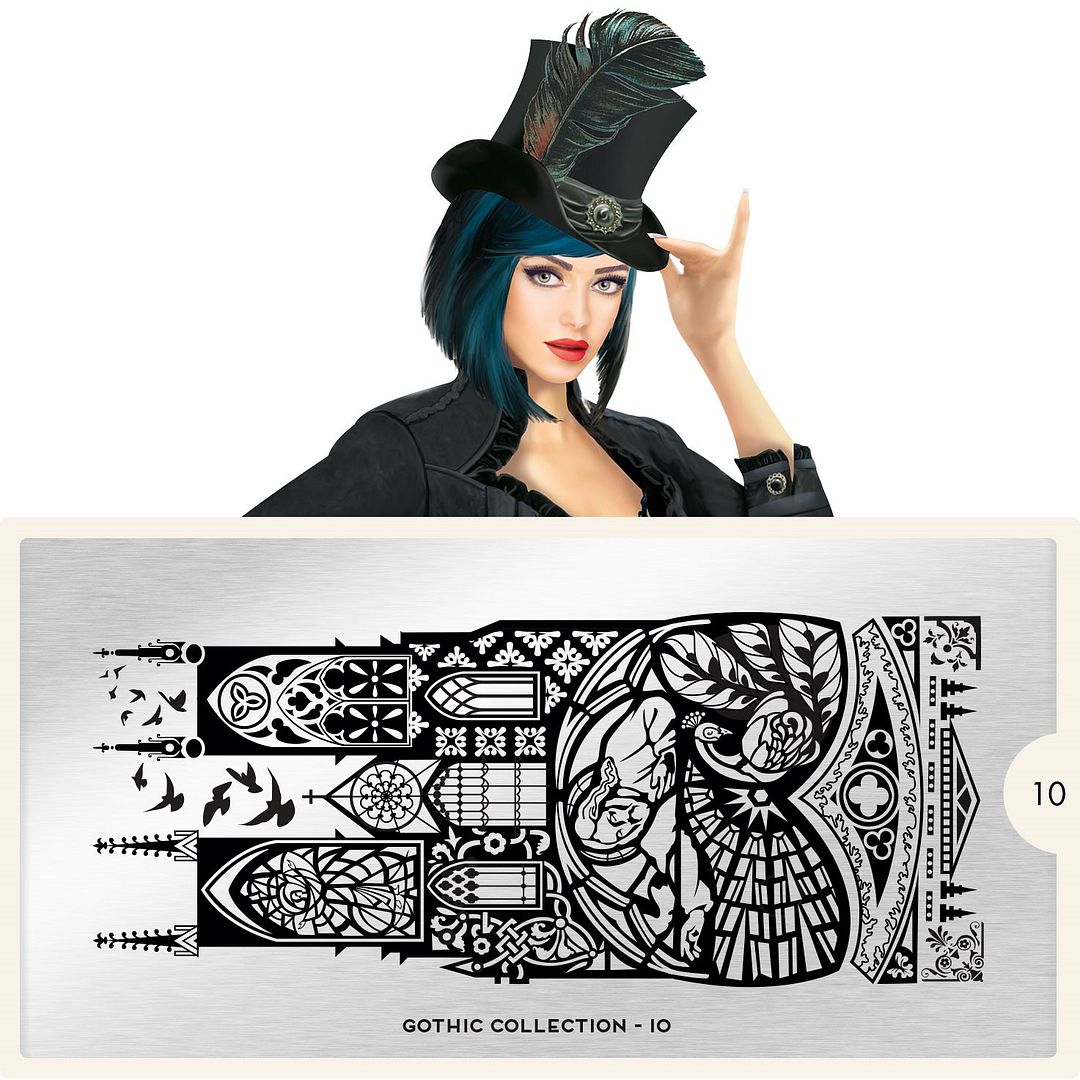 This plate caught my eye immediately as I was saving the pictures. I love the interesting architectural designs and can envision a gorgeous LeadLight design made with the window on the bottom left. Of course my interest doesn't stop there. Do you see the bird and feathers that I thought were a flower and leaves on quick glance? (Note to self: 2 cups of coffee before reviewing plates!) I also love the decorative corners on the right side of the plate and could easily create something lovely with them.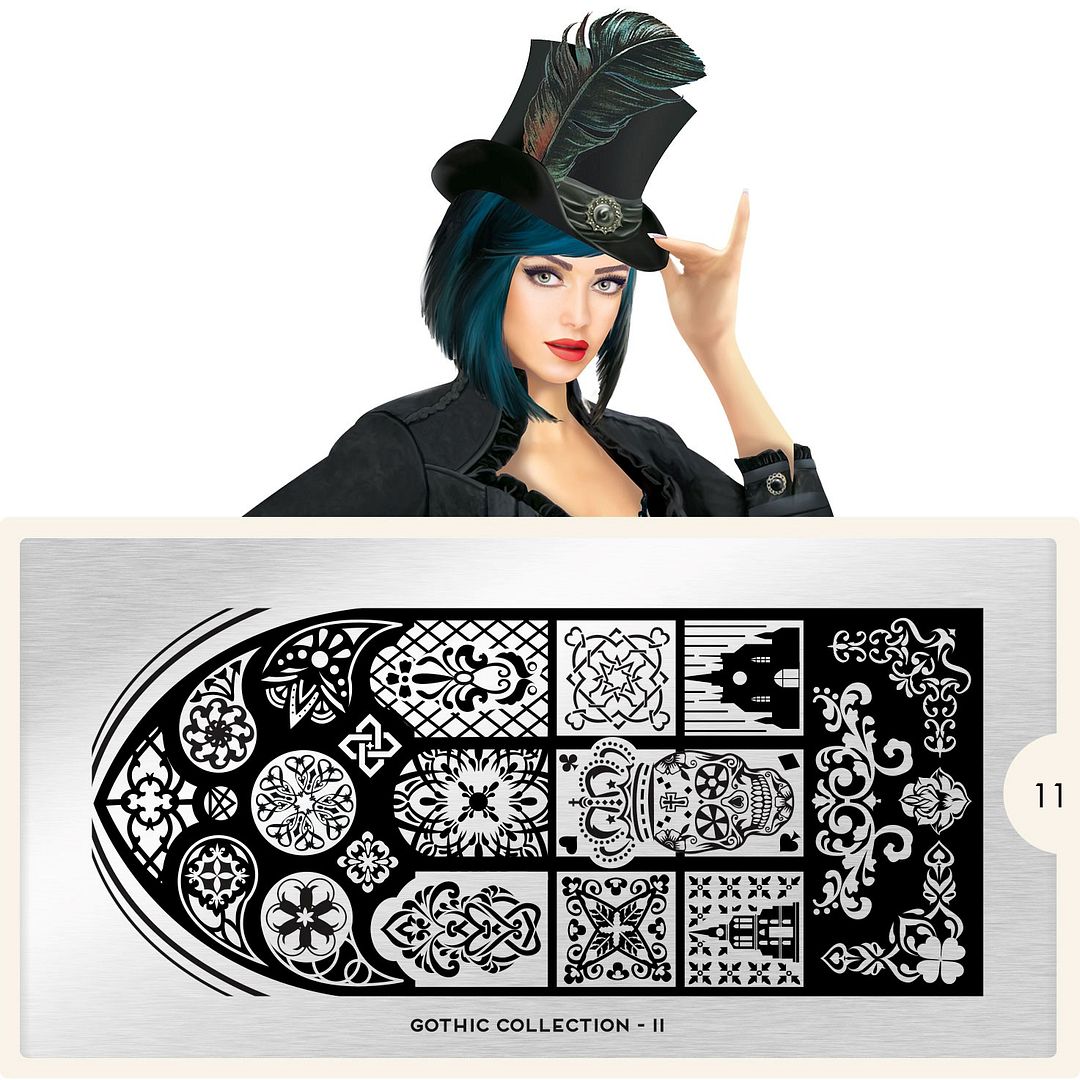 And if the last plate didn't get you, would you take a look at this one?? Oh my! Clearly the crowned sugar skull is the center of attention, but I personally am much more interested in all of the gorgeous, intricate goth symbols. I liked them when I saw them on Gothic 02, but they were small, and I was so hoping they would do something like this! LOVE!
If you've been following me you'll know that I've been on the fence about the Gothic Collection from the start, but I think I am ready to hop off. I am going with 10 and 11. And both of the Halloween plates will also be jumping into my cart! How about you? What do you think of the final Gothic plates? Are you excited for some true Halloween plates?
These plates will be available on Friday, October 10th, and retail for £4.99 (approximately $8.50). You can purchase them directly from
MoYou London
. They are still offering FREE shipping on orders over £15.
Thanks for reading! I'll see you at the next post.