Hey Everyone! It's been a while now since I brought you a really blinged out design, despite the fact that I've been feeling the burning need for some time now. So I did some shopping on my favorite bling site,
Daily Charme
, to freshen up my stash and they included the gorgeous sapphire charm on my ring finger as a gift with my purchase.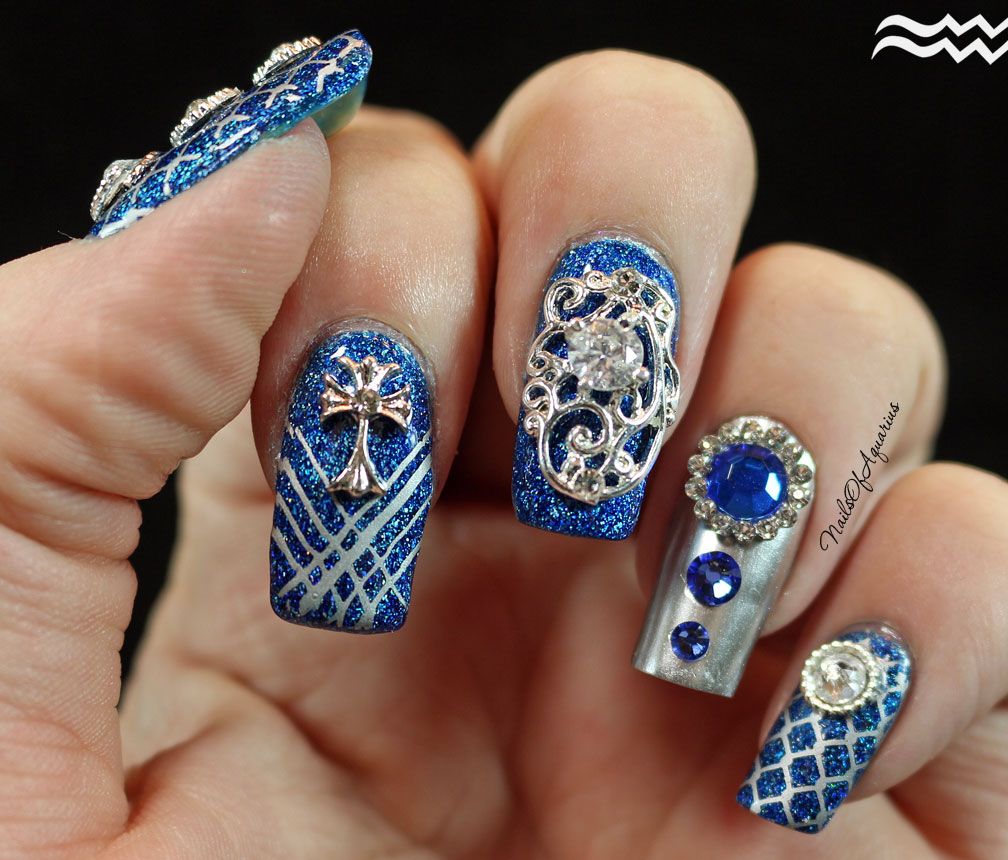 It just so happens that my dear friend Kim over at
Kimett Kolor
had told me about a group she joined recently called N.A.I.L (Nail Art Ideas Linkup) and one of their prompts for this month is Sapphire, September's birthstone. I will tell you more about the group later in the post. For now I just wanted you to know that between my Sapphire charm gift and the group's prompt I felt destined to create this design.
This is where I began. I applied 2 coats of
Dance Legend's Night Ranger
to my thumb, index and pinky fingers and 2 coats of their
Steel Panther
to my middle finger. I used
OPI's Lay Down That Base
and 2 coats of
Push & Shove
for the metallic look on my ring finger. I finished with
HK Girl Fast Drying Topcoat
on all fingers except my ring finger.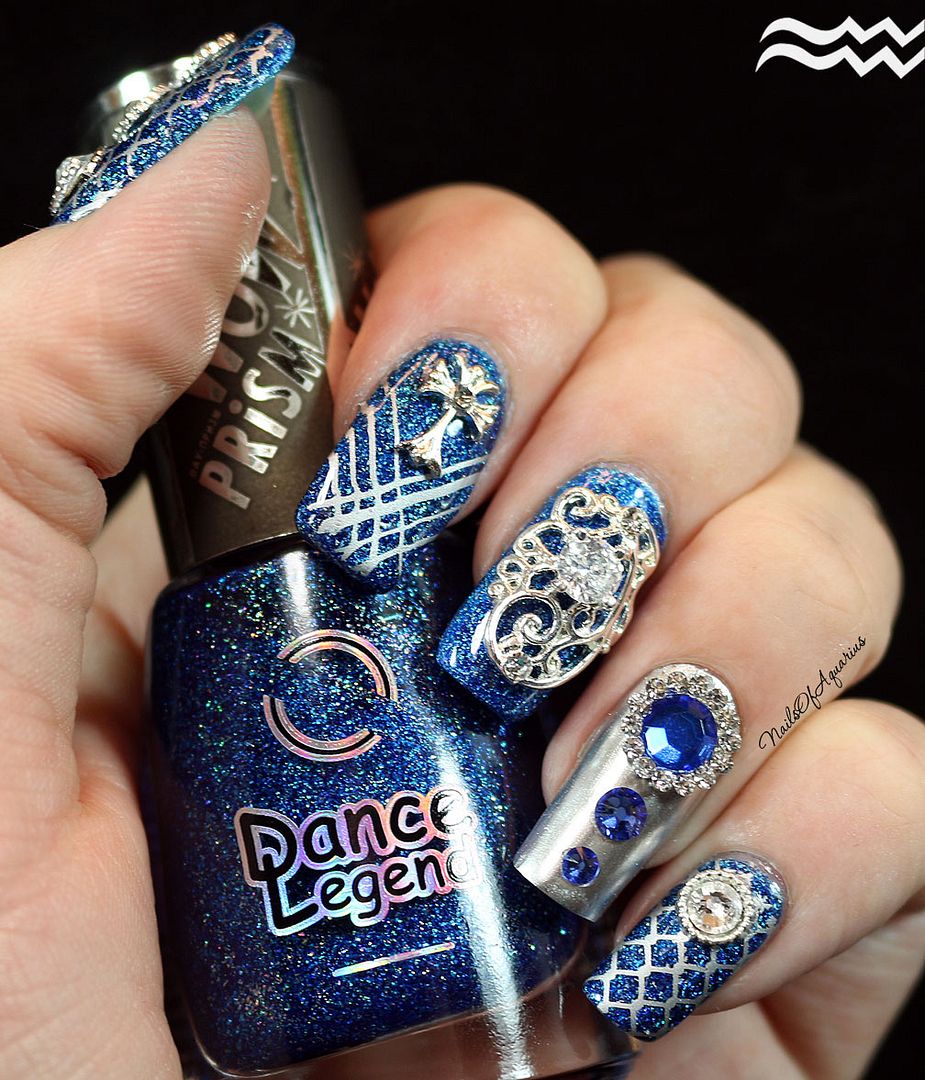 You guys don't miss much so I'm sure you've already noticed my middle finger ended up polished with
Night Ranger
. I sat down to create this design with a theme, lots of bling, and several bottles of gorgeous polish but no real plan and things always get a little haphazard when I do that. Along the way I decided to stamp my thumb, index and pinky fingers with 2 pattern designs from
MoYou London's Pro 02 XL plate
using
Mundo de Unas Silver #18.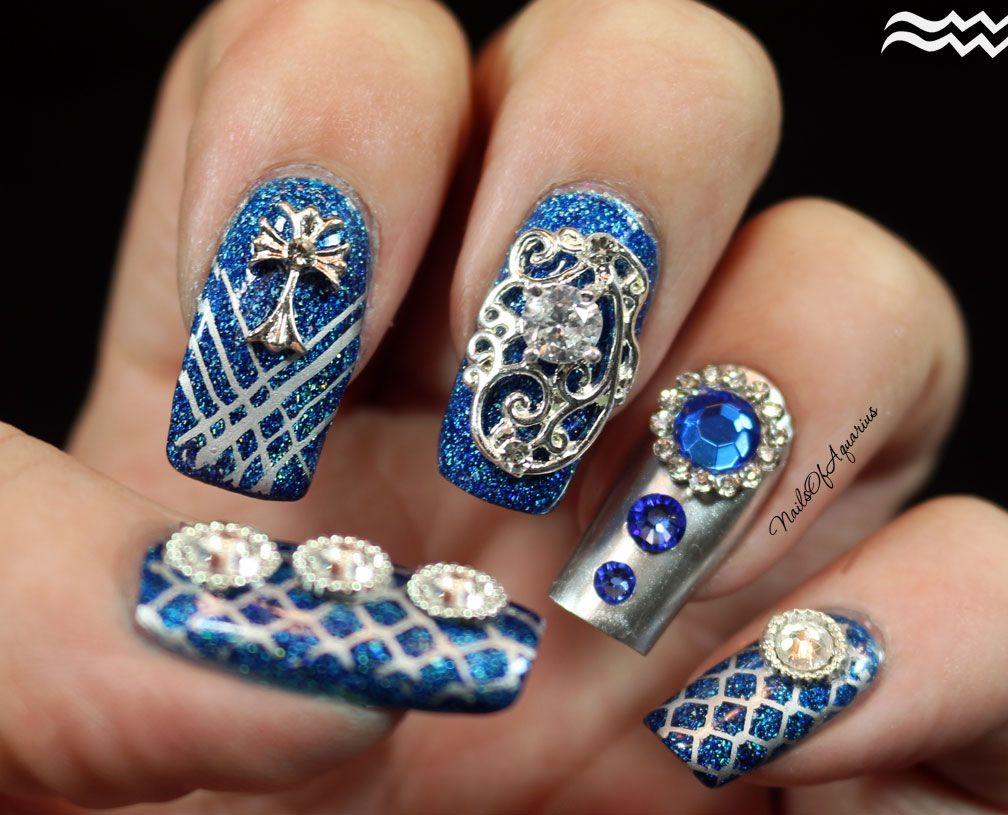 Then the real fun began! Of course I had to apply the
Round Sapphire Gem
from
Daily Charme
to my ring finger first. And I was excited to find that the blue hue matched perfectly with some Swarovski Elements crystals that I already had on hand in 5mm and 3mm. Next I applied their
Silver Royal Cross
to my index finger. I added 4mm and 5mm clear Swarovski crystals to my thumb and pinky and surrounded each of them with a
vintage silver ring
. I finished the design by applying their
Large Diamond Charme
to my middle finger.
Have you shopped at Daily Charme yet? Their charms are very high quality and, when applied and cared for properly, can be used repeatedly. They offer free shipping in the US on orders over $55 and have been including a free gift with purchase for some time now.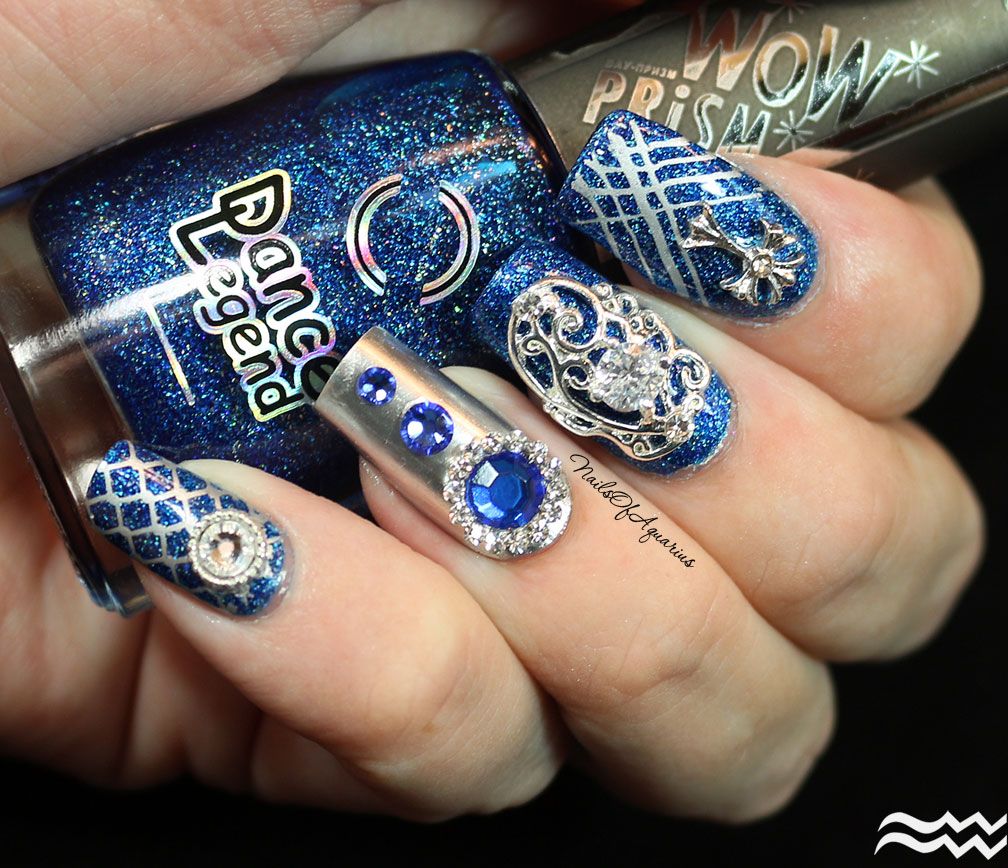 I realize that designs like this one aren't for everyone, or necessarily practical for daily wear, but they are very "ME" and I LOVE to do them now and then and just sit back and admire the beautiful bling. Not having a plan cost me a few extra hours work, but I was absolutely THRILLED with the way this design turned out and proud to enter it as my first design for N.A.I.L.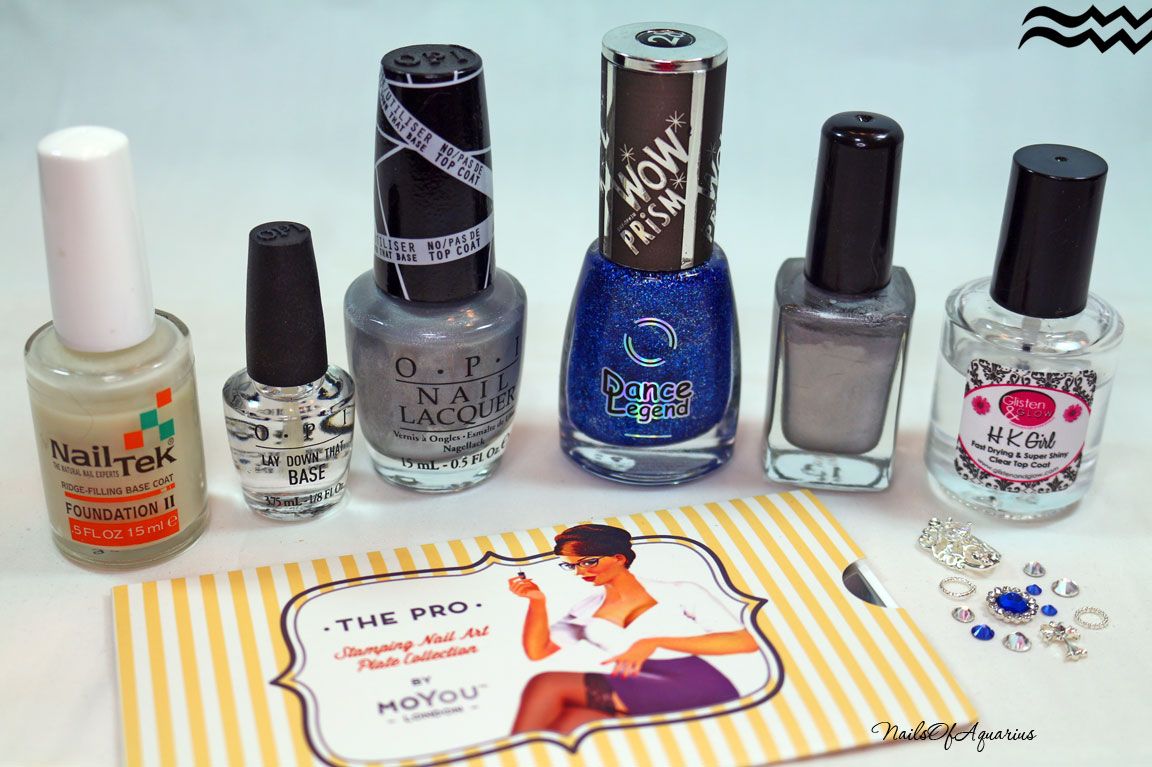 Product Recap:
Basecoat and Topcoat: NailTek Foundation II and OPI Lay Down That Base, HK Girl Fast Drying Topcoat
Base polish: Dance Legend Night Ranger
Accent polish: OPI Push & Shove
Stamping plate: MoYou London Pro 02 XL
Stamping polish: Mundo de Unas Silver #18
Embellishments: Larger charms from Daily Charme (direct links to products included above), vintage silver rings from Born Pretty Store, Swarovski Elements crystals
OK, so how about the information I promised about N.A.I.L (Nail Art Ideas Linkup)? Here it is directly from Jacqui at
Craftynail
nail who co-hosts the group:
"Welcome to Nail Art Ideas Linkup, also fondly called N.A.I.L. We've been running N.A.I.L. for about a year now and it's a relaxed monthly nail challenge with about one theme per week. It's not really a 'challenge' though… it's more of a linkup. It's a great way to share your nail art with other people in the nail art community. You don't have to commit to doing all the prompts each month. It's up to you so please jump in when you can. Do your nails anytime during the month and share them using our inlinkz and hashtag #naillinkup."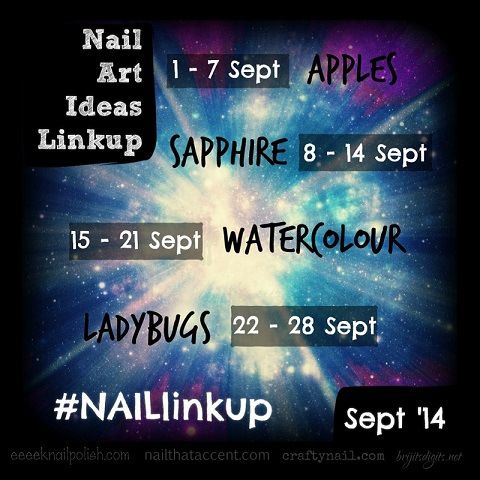 "NAIL ART IDEAS LINKUP is hosted by Brijits Digits, Craftynail, Eeeek Nail Polish! and Nail That Accent!. Feel free to contact us if you have any questions at all! You can also read more info about our monthly linkup on our blog links below. We look forward to seeing your nails this September!"
happy painting,
What I liked most about this group is the flexibility. While they do have weekly prompts, each of the LinkUp's stay open all month so you can create and post your design anytime. Perfect for a somewhat sporadic blogger like myself who can't even get her 1st entry in on time! :) The lovely ladies that host this group are listed above, along with direct links to more info about the group on their respective blogs. Perhaps you'll consider joining too!
As always, I would love to hear your thoughts about my design. I also hope you'll scroll down to see the designs created by other members of the group.
Thanks for reading! I'll see you at the next post.