Hello Nail Artists! I am excited to present you with another
MoYou London
plate review. I'd like to thank the ladies at MoYou London again for this opportunity! I have decided to review each of the plates I received separately so I can spend a fair amount of time working with the plate and create a unique design for you.
I've spent the last few days working with this
MoYou London Pro 19 XL plate
. It was one of two XL plates included in the June Pro Collection expansion and I will have the other one coming up for you shortly.
All MoYou London plates come packaged in a decorative sleeve, shown above, with a different custom design for each collection. They are also coated with the protective layer of blue plastic shown above that needs to be removed before you use the plate. Each collection has a mascot and Joan is our Pro. The next time you are shopping Pro plates in the MoYou London store click the "Additional Information" tab to get a chuckle out of Joan's "qualifications". I think the sleeves are such a fun part of the experience that I store my plates in a box with the sleeve on, open end up so I can see the plate numbers in the notch out they added a few months ago.
Dance Legend's
WOW Prism Collection
and I used three of those polishes in this design:
Steel Panther
,
Quiet Riot
and
Gothic Veil
. Steel Panther is semi-sheer so I applied 3 coats to every finger except my ring finger where I applied 2 coats of Gothic Veil. I finished with
HK Girl
Topcoat
and let the polish dry completely before I started working on the gradients.
Photographed indoors under fluorescent lighting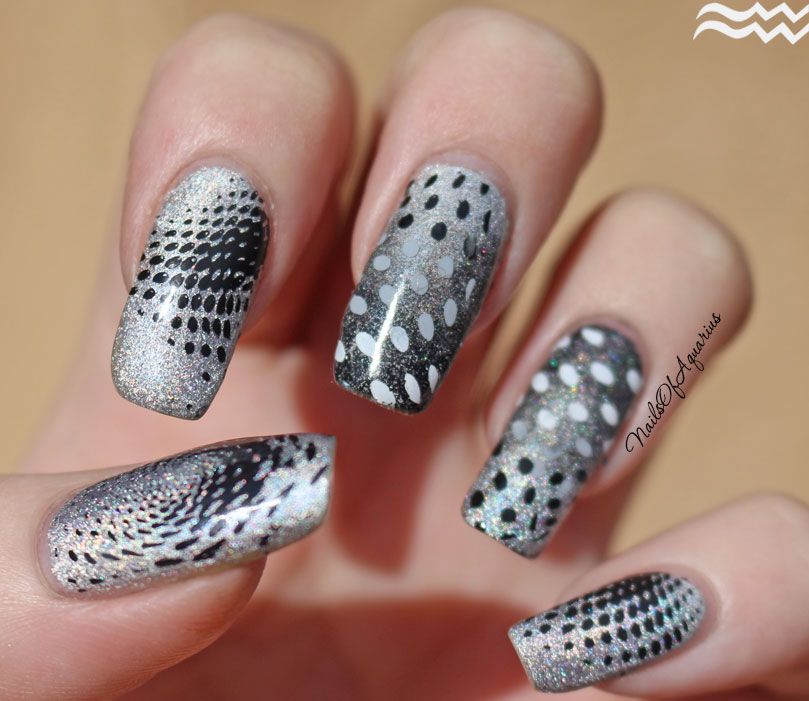 Photographed outdoors in direct sunlight.
I thought it would add interest if I stamped a gradient design over the holographic gradient base. I used
Mundo de Unas
stamping polishes
in
black, light grey and white
. I painted a row of each color onto the design at the top left of the plate, then I scraped from the light to dark to allow the colors to blend a bit. I stamped the result on my middle finger. I inverted the plate and reversed the placement of the stamping polish colors so I could use the same design on the reverse holographic base on my ring finger.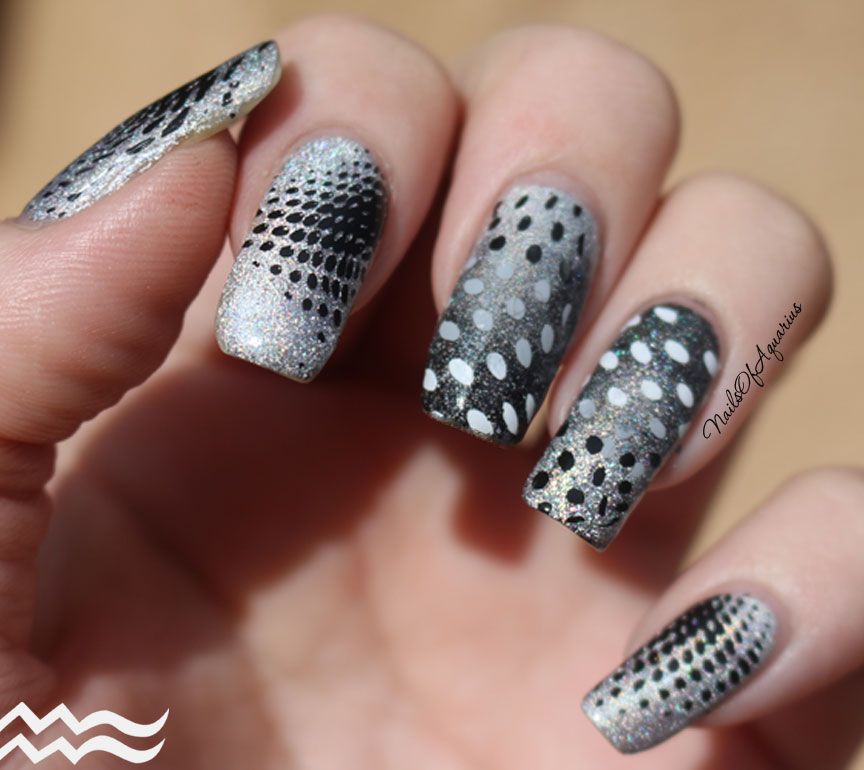 Photographed outdoors in direct sunlight
I stamped my pointer finger using 1/2 of the 5th design on the bottom row applied sideways and used the other 1/2 the same way on my pinky. I was going for the look of continuous dots flowing across all four fingernails Although you can't see it as well in this photo, I stamped my thumb with my favorite design on the plate, the 3rd design on the bottom row that I dubbed "going down the rabbit hole". Scroll up to the previous photo for a better look.
Product Recap:
Basecoat and Topcoat: Nail Tek Foundation II and HK Girl Fast Dry Topcoat
Base Polish: Dance Legend WOW Prism Steel Panther, Quiet Riot and Gothic Veil
Stamping plates: MoYou London Pro 19 XL
Stamping polish: Mundo de Unas Black (2), White (1) and Light Grey (33)
In conclusion, this plate gets 2 thumbs up! The quality is excellent and the detailed designs reproduce perfectly crisp. If you enjoy creating Skittle or Skittlette designs, as I do, you'll love all of the options you'll find on this plate.
It is available now and retails for £4.99 (approximately $8.50 depending on the conversion rate). You can purchase it directly from
MoYou London
. They are still offering free AirMail shipping to the US on orders over £15 so take advantage while you can!
Thank your for reading this review! I hope you found it helpful and also enjoyed the nail art design I created. I'd love to hear your thoughts in the Comment section below. I read and respond to each one. I'll see you at the next post!