Hello Fellow Stampers! It's my favorite day of the week again and I've been looking for to it since Monday. MoYou London will be expanding the Explorer Collection, one of my favorites. If you love TRIBAL designs you may want to view these plates in a place where it is OK to squeal with delight!

I am so happy that Nora is back from her latest expedition and she's brought us 6 new plates! There will be 1 Collage style, 3 Regular size (1.5cm x 1.2cm) and 2 XL size (2.0cm x 1.5cm) plates. The ladies that use the Regular size plates have the advantage in this release, receiving 16 new designs that are not available on the XL plates. I am sad about this and I hope that MoYou London will considering balancing the scales in a future expansion.
WOW, just wow! My all time favorite plate from this collection is Explorer 3 and I see it's influence in this new collage plate. The decal and LeadLighting potential here is never ending! This one is a MUST have for me!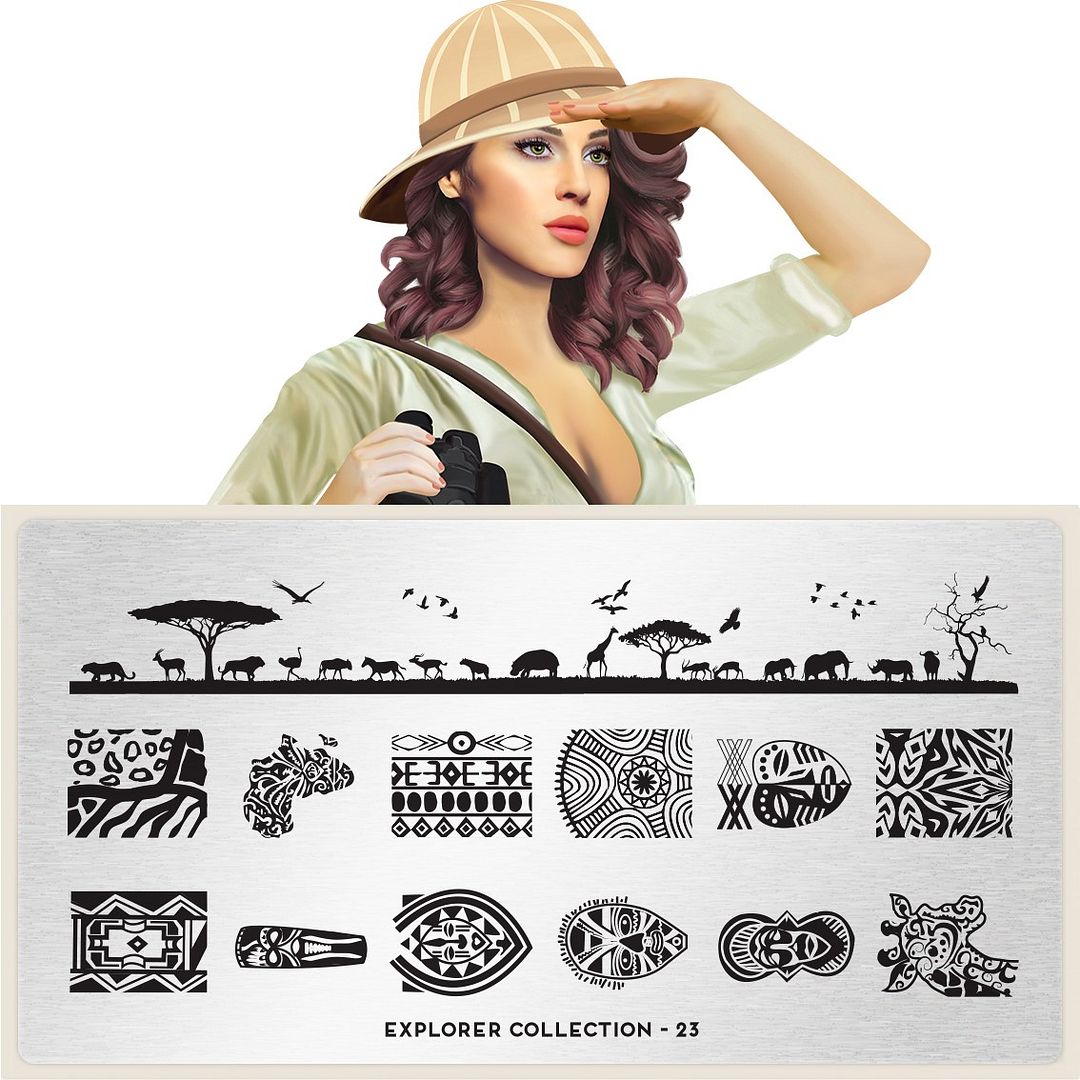 This plate has been a long time coming and I am happy to see it here. It is the Regular size version of Explorer 10, a very popular plate used in countless manicures to spread the African plain design over multiple fingers. They've expanded the landscape and added lots more animals. There are also 4 new designs here (the last 4 in the middle row) that aren't included in the XL plates. I NEED this one too to pair up with Explorer 10 and stamp my smaller nails. I also can't pass up the mask design in the center row!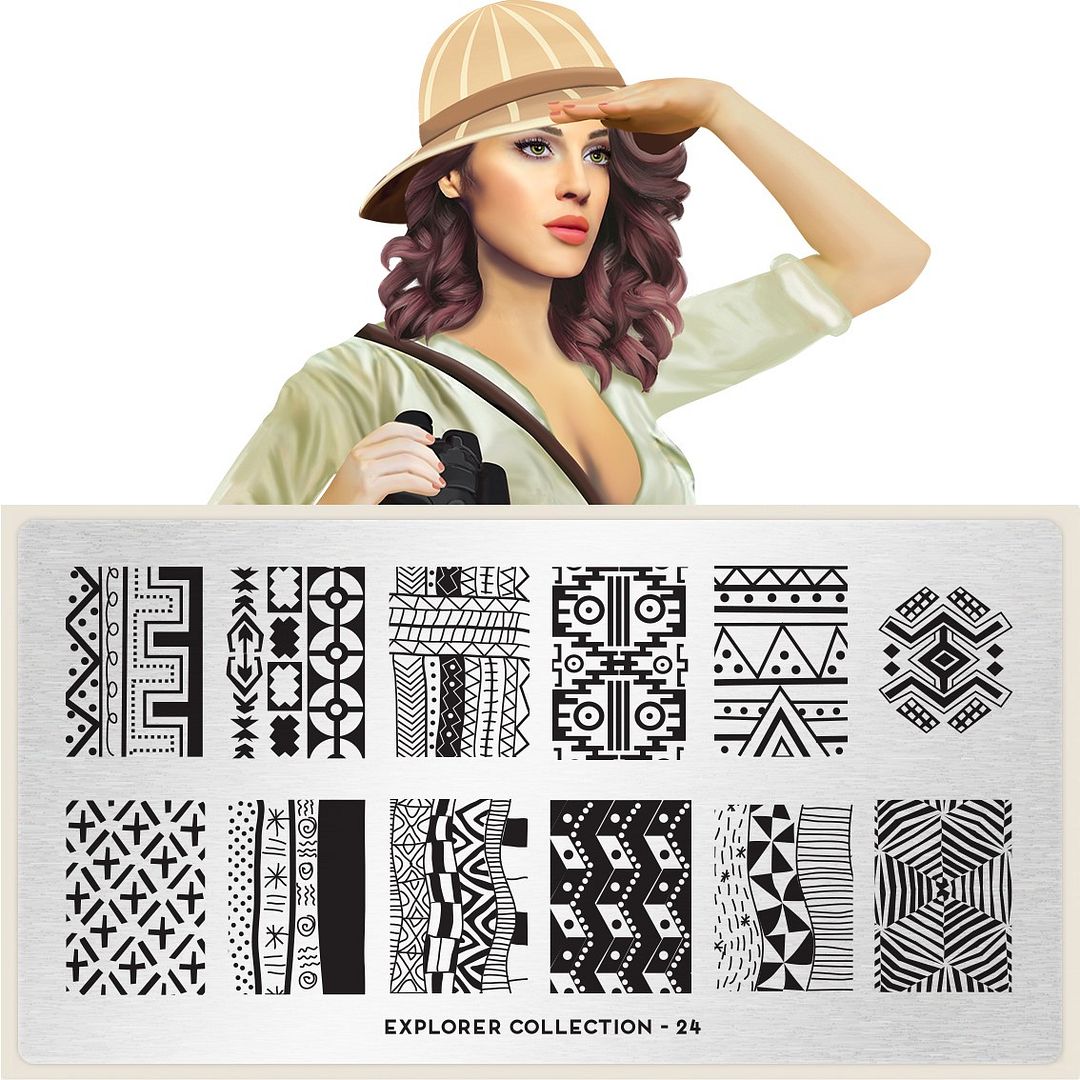 Here's your first peak at the Tribal greatness in this expansion! I love so many of the designs here, but the 3rd designs in both rows are a must have for me!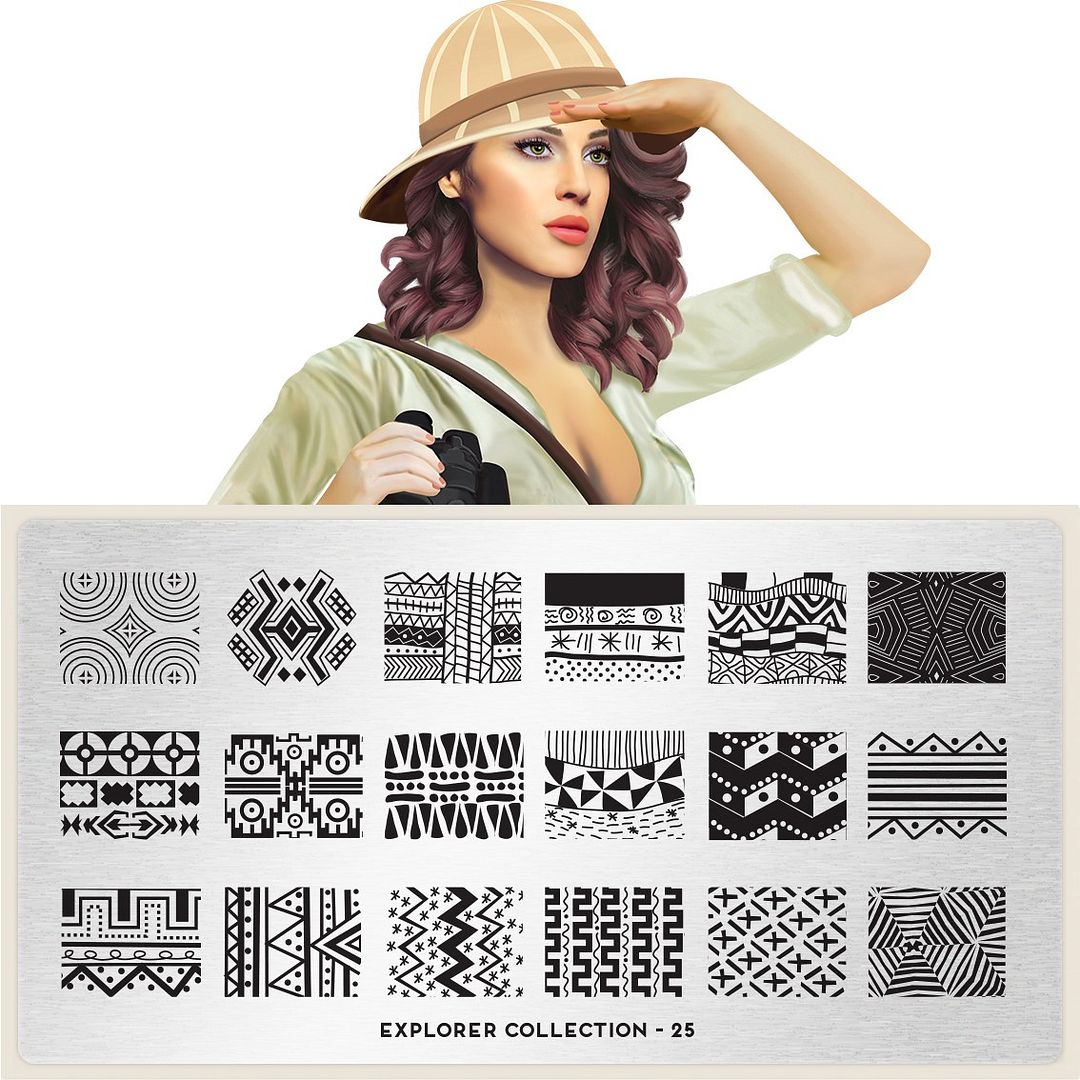 This Regular size plate coordinates with XL 24 above plus 6 more designs. I don't want to cause any undue pain to the XL ladies, so I won't point out the new designs. I know you'll all figure it out quick enough!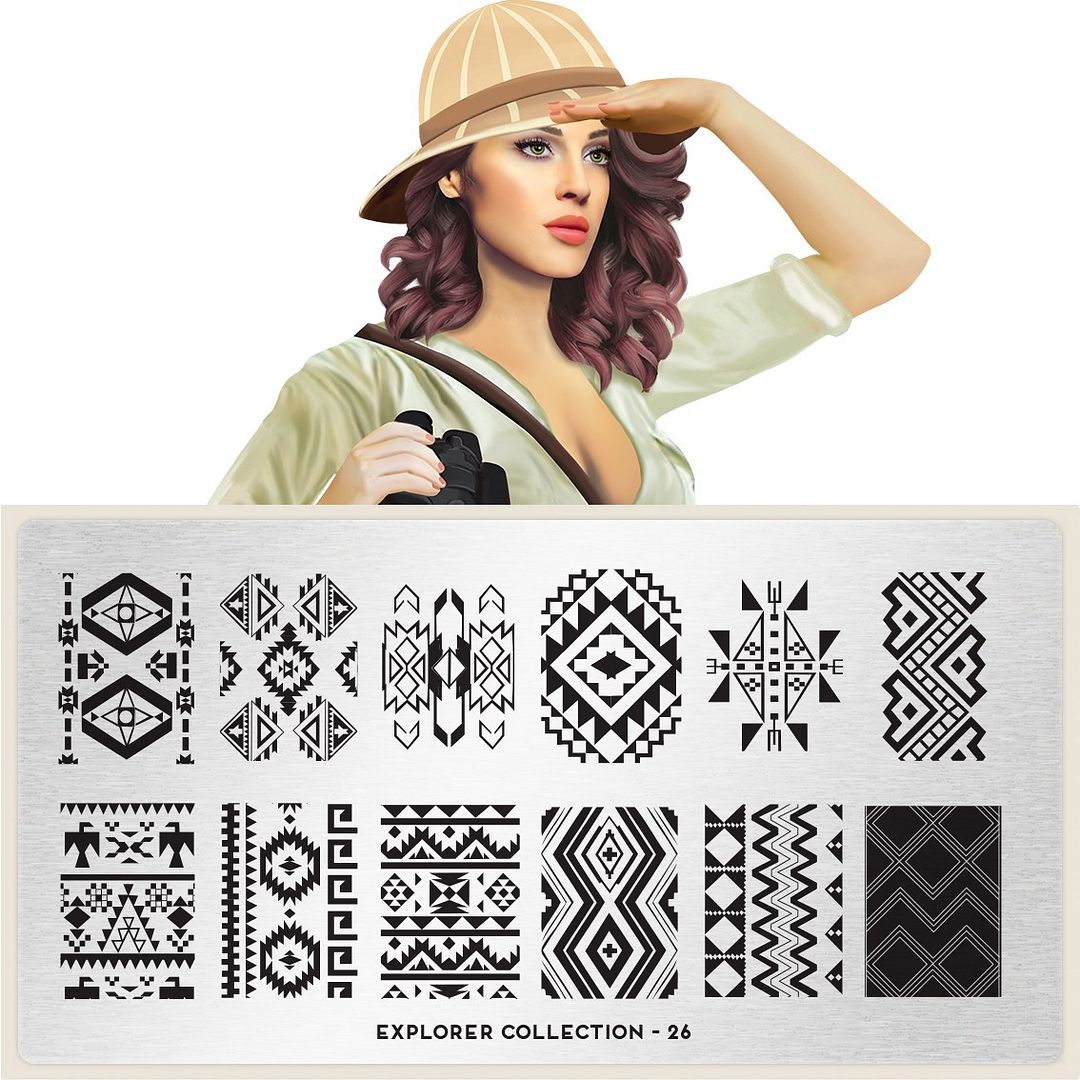 These designs have a southwestern tribal flair for me. Probably because I live in New Mexico and have seen many hand-made Native American rugs that use these patterns. I'd love to do a skittle manicure with a few of the designs on the top row! And I bet these designs would coordinate well with Explorer 11 and 14, if you happen to have them.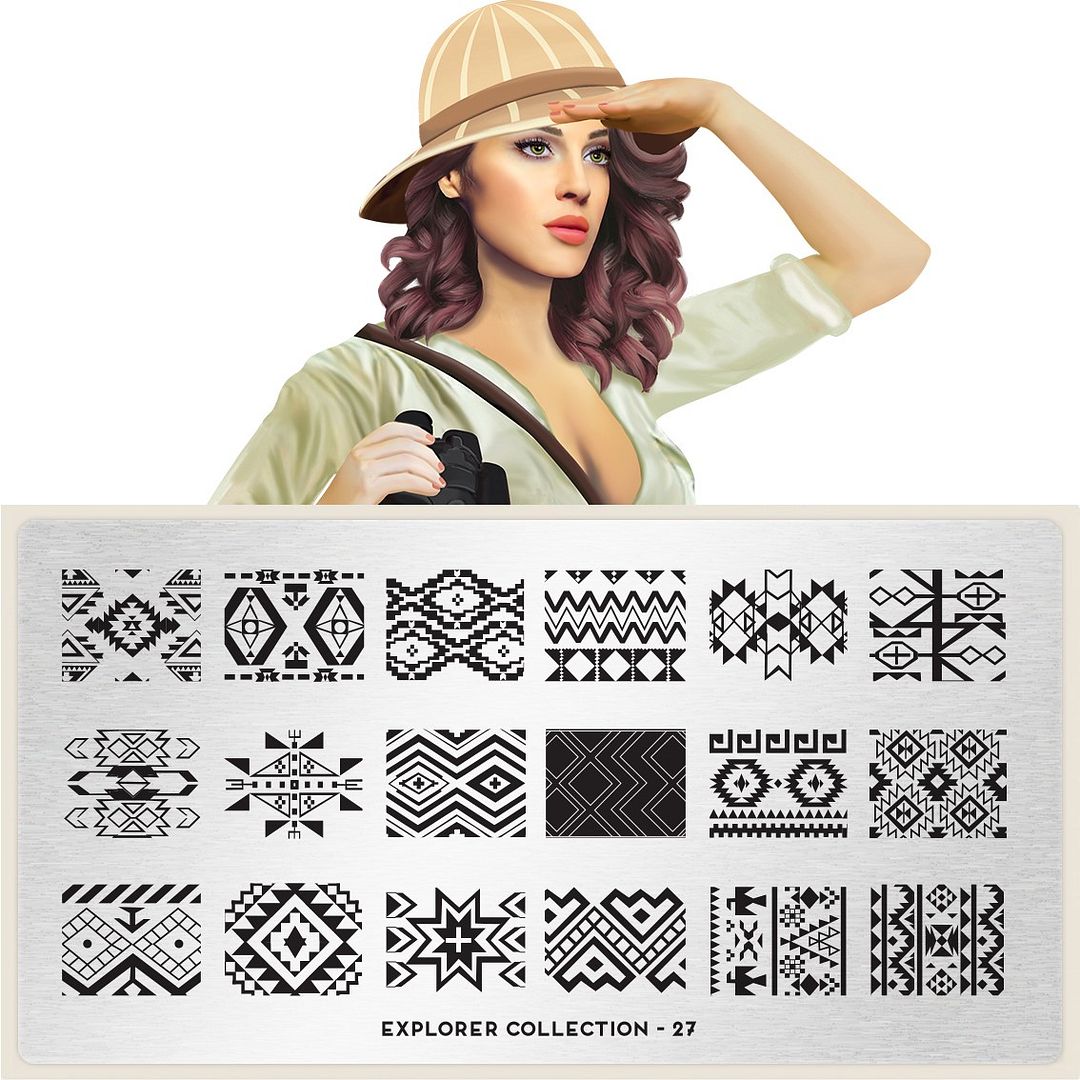 And last, but certainly not least, we have the Regular size plate that coordinates with XL 26 above, plus 6 additional new designs.
I would love to hear your thoughts on these new plates! As a tribal design lover, I am thrilled with them and I think MoYou London did an amazing job! Sure, lots of other brands releasing tribal themed plates too. But I think you would be hard pressed to find 2 designs anywhere that are exactly the same. And if tribal isn't your thing, scroll back up to the amazing Collage plate!
These plates will be available on Friday, August 8th, and retail for £4.99 (approximately $8.50, depending on the conversion rate). You can purchase them directly from MoYou London. Shipping to the US is still FREE for orders over £15! Take advantage while you can!