Hello there my Fellow Stampers! It's that day again…that magical day of the week when MoYou London gives us a peek at the new plates releasing on Friday. I've been excited since I saw the teaser on Monday that they would be Pro plates, my favorite collection. I am thrilled to tell you that there will be 6 new Pro plates released this week! Let's take a look!

The new plates will be divided evenly among the 2 sizes, so 3 Regular size design (1.5cm x 1.2cm) plates and 3 XL size design (2cm x 1.5cm) plates. I loved the deviation to more geometric looking designs when they last expanded this collection in June. But I am happy to see that they've gone back to the flowery designs we've come to expect in this collection with this release.
You may know our girl Joan that represents this collection. She had some words for us this week that I thought I'd share:
Meet Joan > She has it all under control.
And now a few words from Joan:
'We like to keep things professional around here. Someone has to keep an eye on these artistic types. *sniffs* I'm in charge of quality control, so make sure to let us know if you spot anything that we could improve. I work hard to make sure that you get the best quality products and the highest standard of customer care. Even so, I've found time to collect some of my favourite patterns and designs for you. Professional doesn't have to mean dowdy, now does it?"
It sounds like Joan is looking for our feedback. You can always reach out to MoYou London by email at [email protected].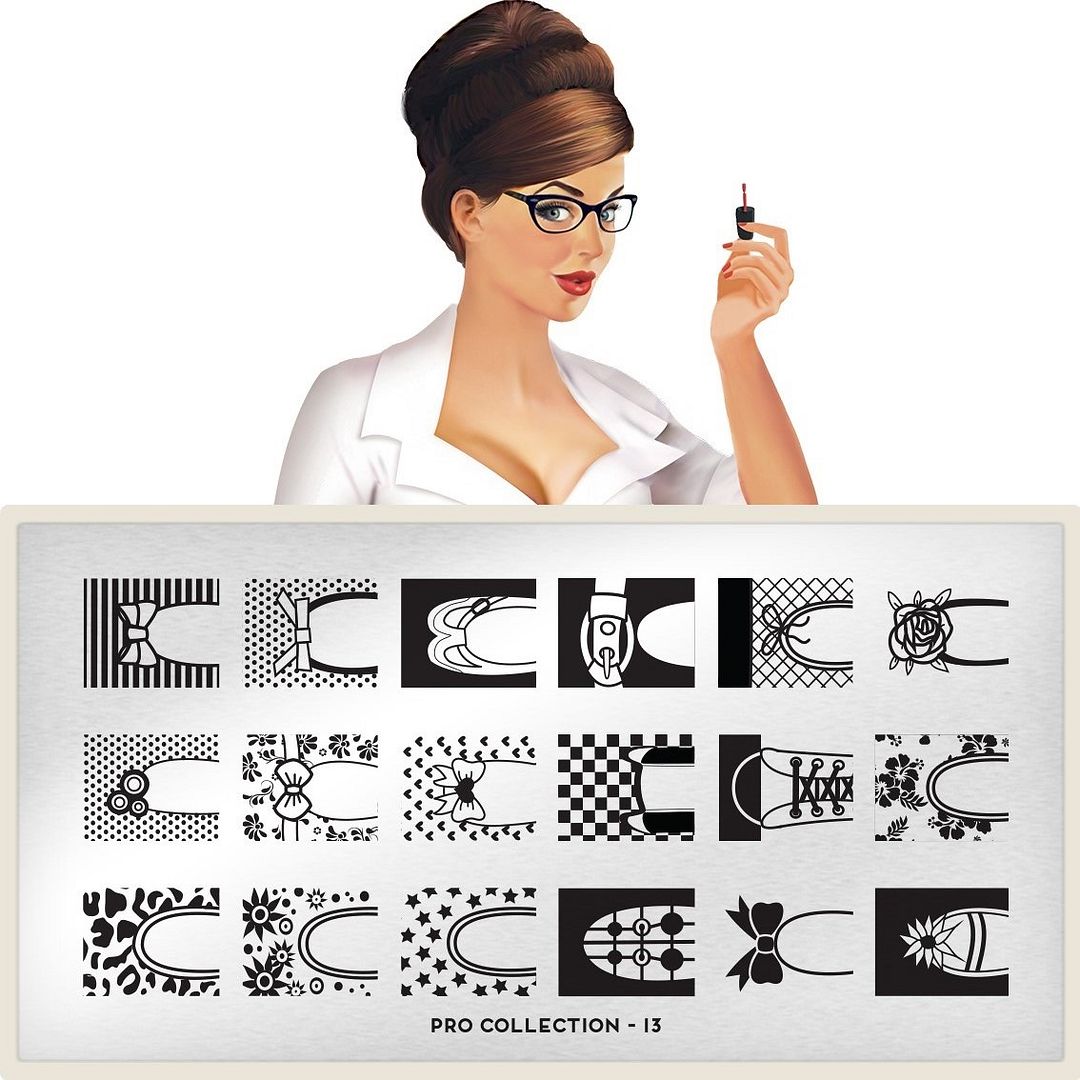 There is one exception to the flowery designs I spoke of above, the new Pro 13 plate. This plate is the Regular size version of the Shoe plate previously available only in XL, Pro 17. I own the 17 plate and this one looks quite different. To accommodate for the smaller size, they've decided to use the shape of your nail to form the top shoe instead of having a complete shoe image. It's an interesting idea and I look forward to seeing some designs created with this plate. All of the designs from XL 17 are included, some slightly modified, plus 6 new designs.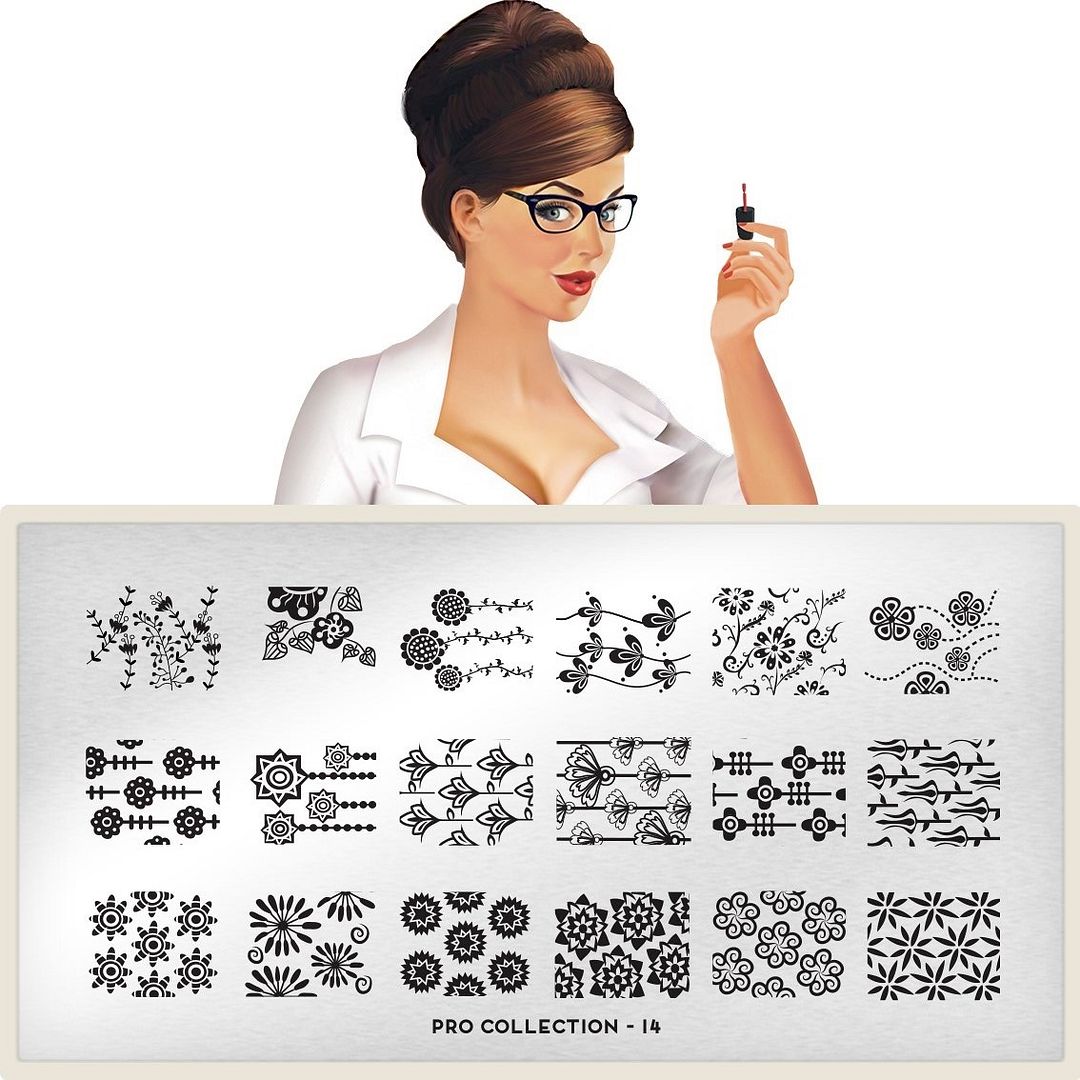 Here's where we start seeing the flower designs. I love every image on the top row…flowery and swirly gets me every time! The modern depiction of the tulips at the end of the middle row has my attention too.
This is the last of the Regular size design plates. I am sold on the first 3 designs in the top row, especially the 3rd design. I've also spotted a few other designs on this plate that will coordinate with designs on other plates in the Pro Collection.
Here is the first XL plate in this expansion. It includes all of the designs from the middle and bottom rows of Pro 14 above.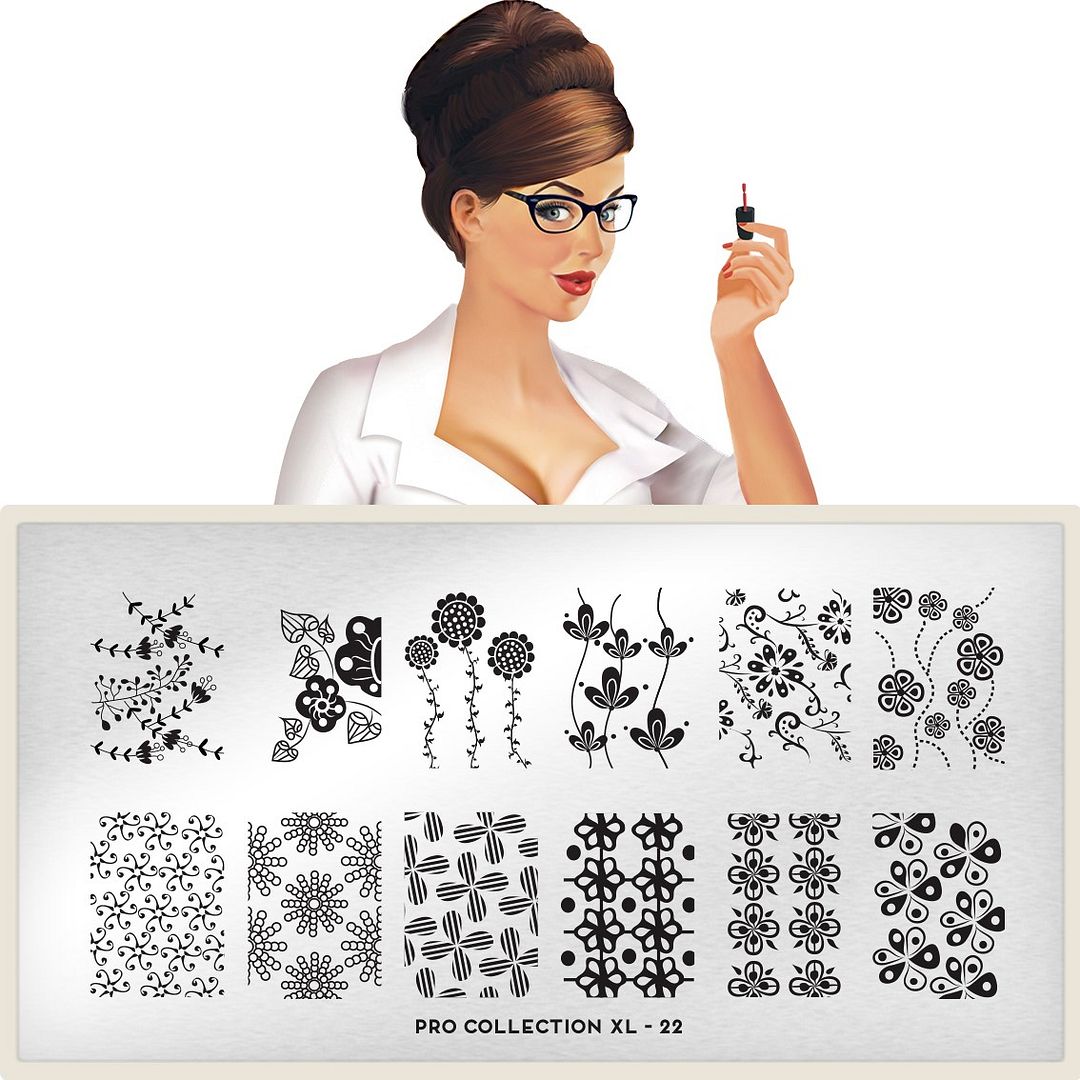 I am happy to find all of the swirly designs I loved from Pro 14 here on the top row. The bottom row is made up of all the designs from the middle row of Pro 15. This is getting confusing, huh?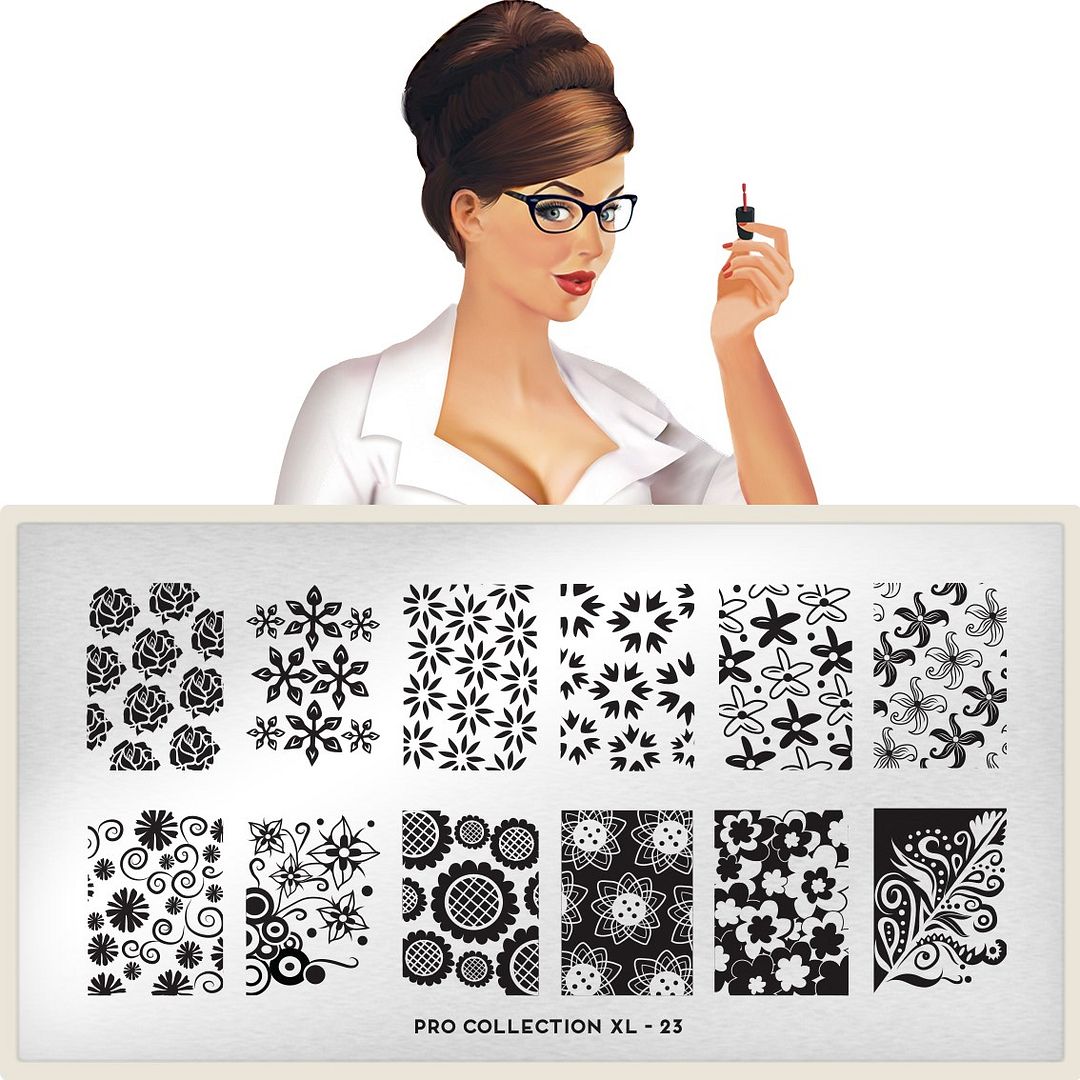 And last, but absolutely not least, is Pro 23. This plate includes all of the designs from the 1st and last rows of the Pro 15 plate above, in XL size of course. I am happy to see the 3 designs I loved on the Regular plate are here. I NEED that last design on the bottom row!
I am so happy to see that ALL of the designs are available in both image sizes! Do you like the new plates? Will any of them be jumping into your cart on Friday? I NEED the last design on XL 23, perhaps even in both sizes. There's a pretty good chance I'll buy 22 as well. I don't know about you, but I can never have too many swirly, flowery designs.
These plates will be available on Friday, July 18th, and retail for £4.99 (approximately $8.50 depending on the conversion rate). Shipping is still free to the US on orders over £15 so take advantage while you can! They can be purchased directly from MoYou London.
I hope you enjoyed seeing these new plates! I'll see you at the next post.