Hey Ladies! So I promised, or warned you, I am in a BadA$$ manicure mood this week. And I may be dating myself some by naming this one after an
80's "hair" band
song, but I just couldn't help myself. I have wanted to do this manicure since I first laid eyes on this plate on the
Messy Mansion website
so, without further delay, here it is...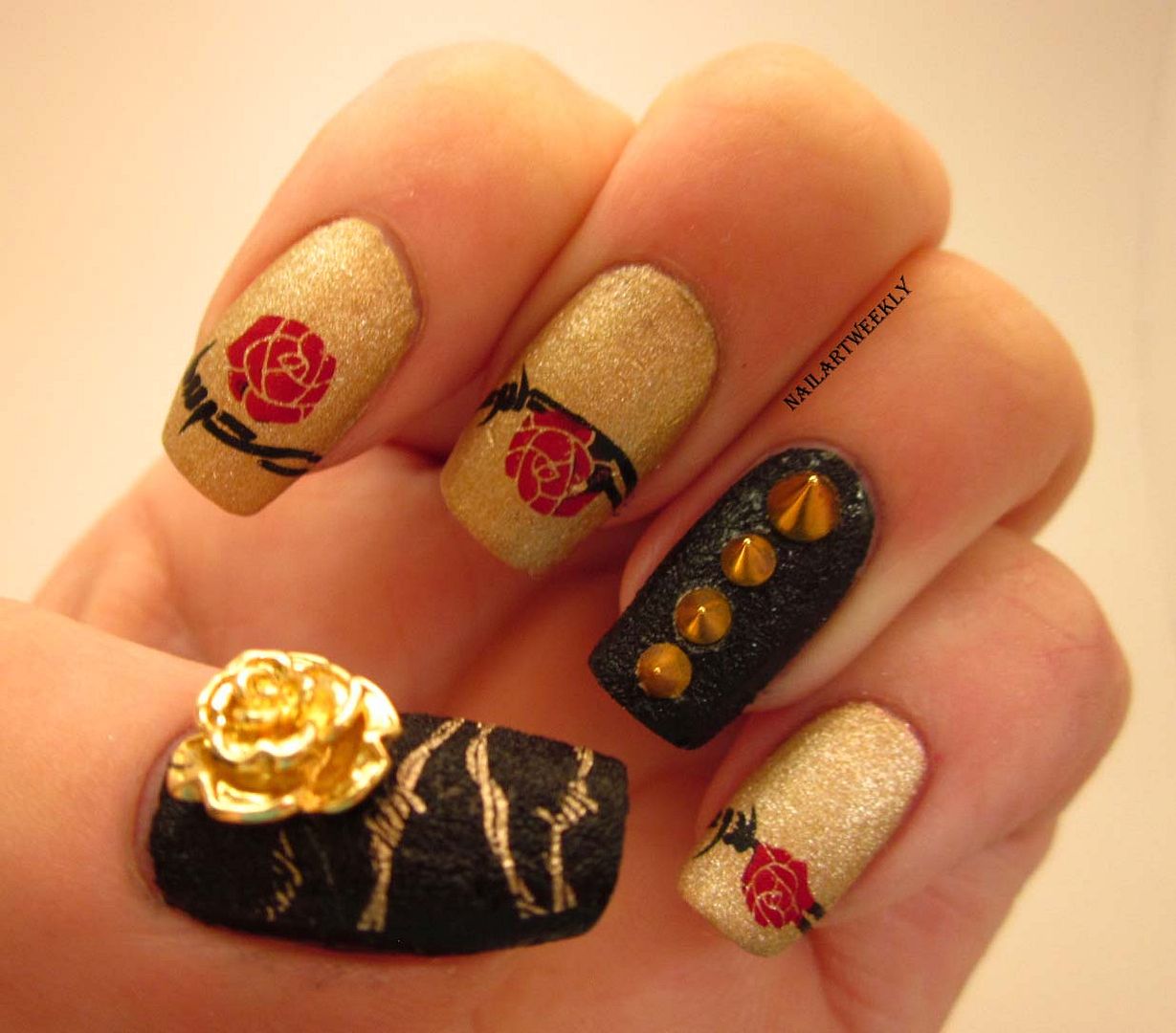 Basecoat/
Topcoat: Nail Tek Fo
undation II, No Topco
at
Base color: OPI Love.Angel.Music.Baby
Accent color: China Glaze Bump in the Night
Stamping plates: Messy Mansion MM07, Bundle Monster BM323
Stamping polish: Mundo de Unas Black (2) and Red (9), Essie Good As Gold
Embellishments: Daily Charme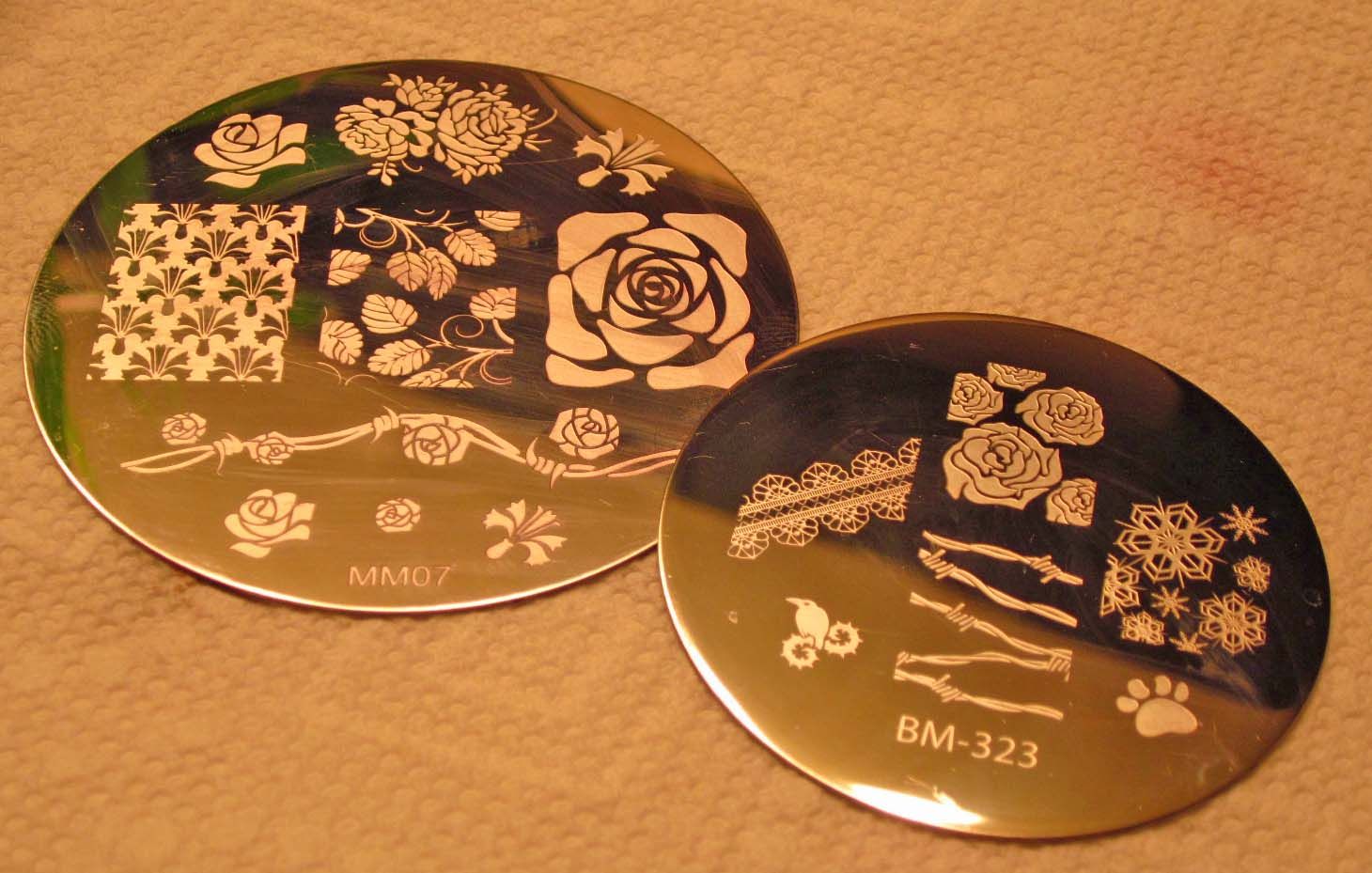 There it is, the plate that inspired the manicure, Messy Mansion's MM07. Roses and barbed wire are such a BadA$$ combination, don't you think? I bought my first
Messy Mansion
plates recently and this is my first time trying them. As you can see they worked flawlessly, picking up all the little details in the barbed wire. What I really like, and what makes this plate unique, is that it includes various image sizes and all the designs are coordinated. There's a perfect fit for every finger. My original plan was to use that big rose on my thumb, but I ended up going in a slightly different direction by using the
Bundle Monster
plate and embellishing.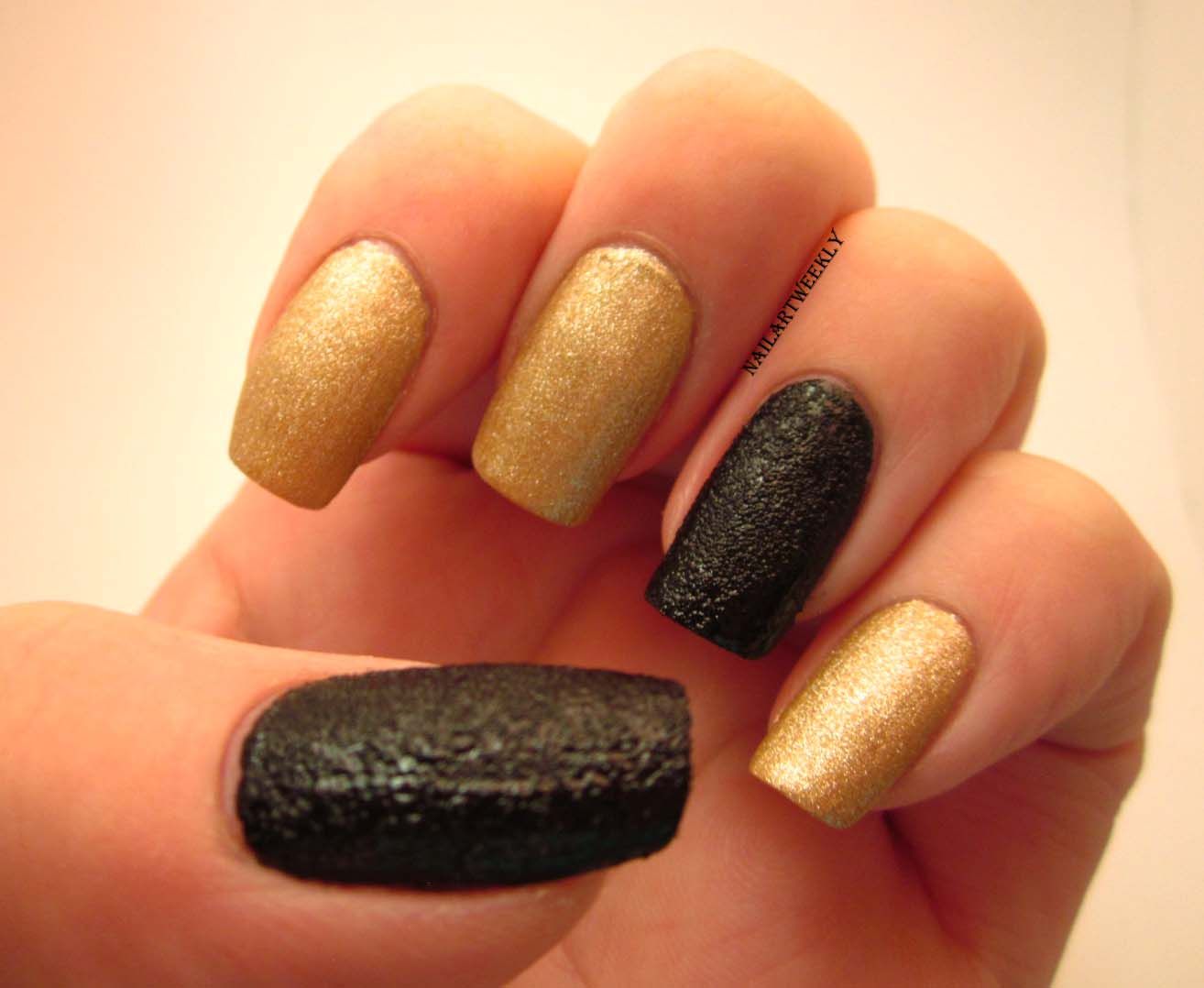 I started with two coats of
Love.Angel.Music.Baby
on my index, middle and pinky fingers and two coats of
Bump in the Night
on my thumb and ring finger. I was late to the textured polish party and only started collecting them in the past few months, so I've been on a texture kick lately. Love.Angel.Music.Baby is a satin so I didn't use any topcoat here.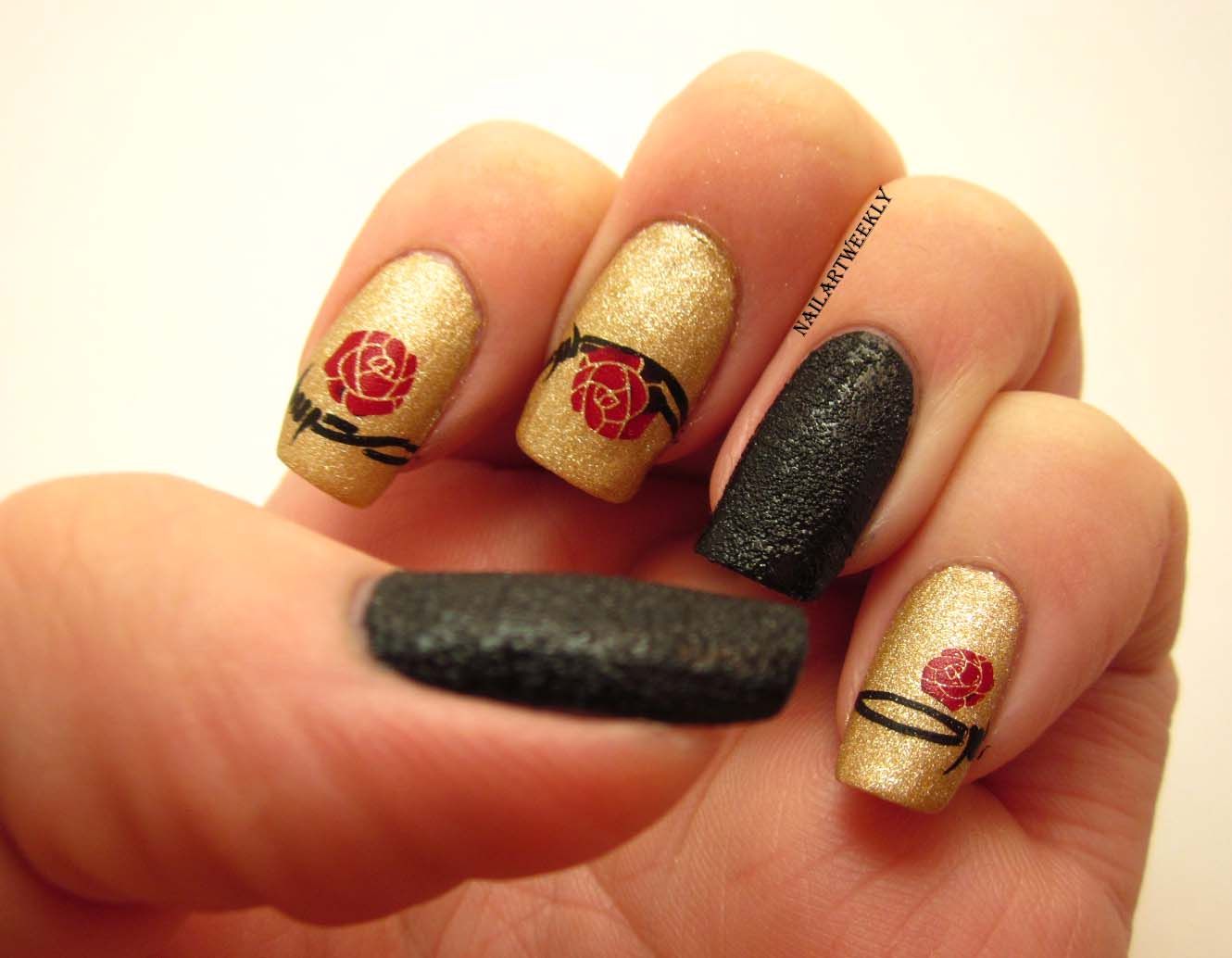 Then I stamped with
Mundo de Unas
black and red. The MM07 design was perfect for two color stamping. I simply needed to apply the colors where I wanted them on the image and scrape in a sideways direction to keep them from coming together. I finished up by stamping over the texture on my thumb with
Good As Gold
.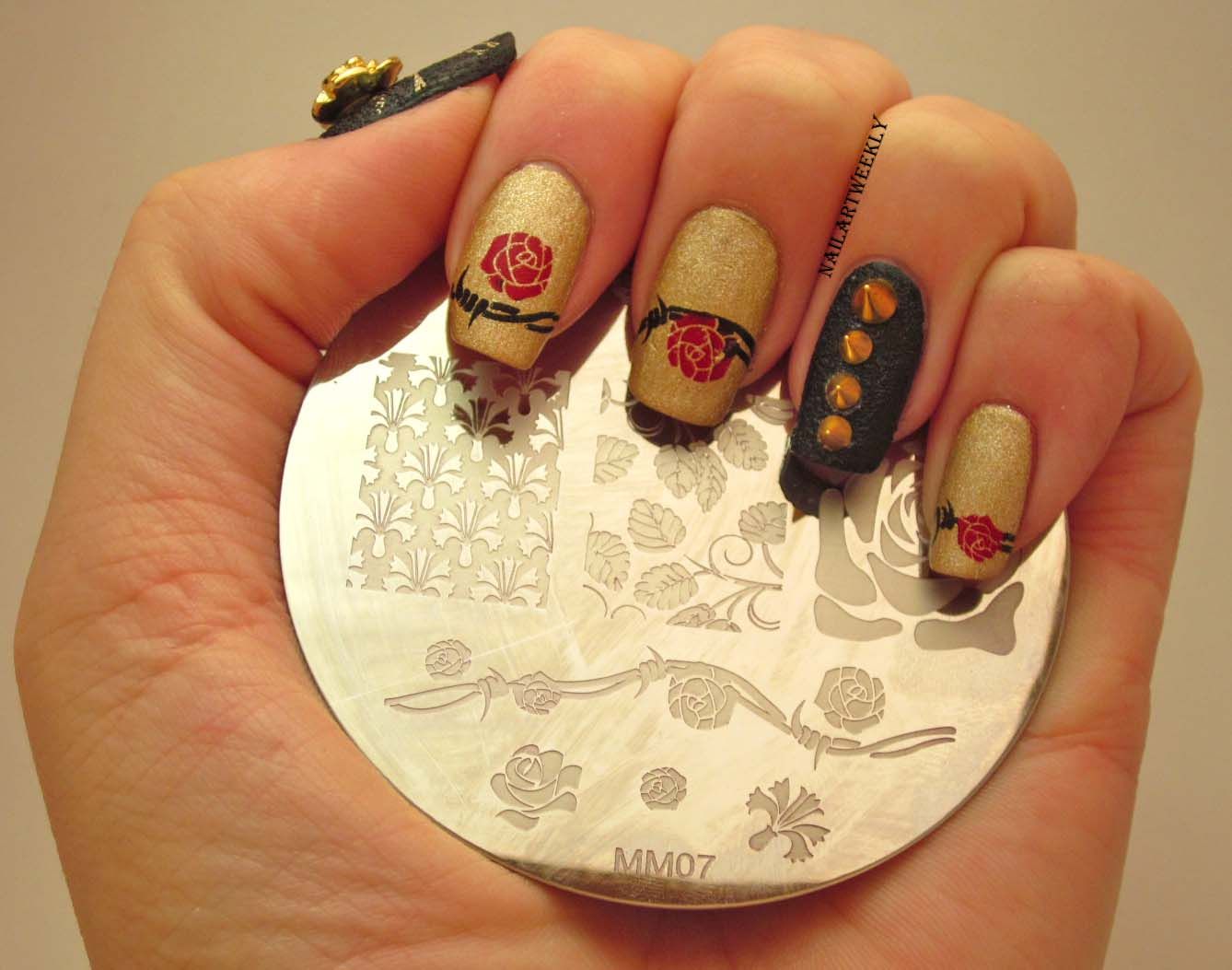 Yep, there's those spikes again! I just love the edgy look they provide. A few people asked if they are prickly and got caught on things and the answer is "yes and yes". For most people, myself included, they probably aren't practical for long term wear, but I think they are great for making a statement in a short term manicure. The large gold rose on my thumb is from
Daily Charme
and was applied with a dab of nail glue.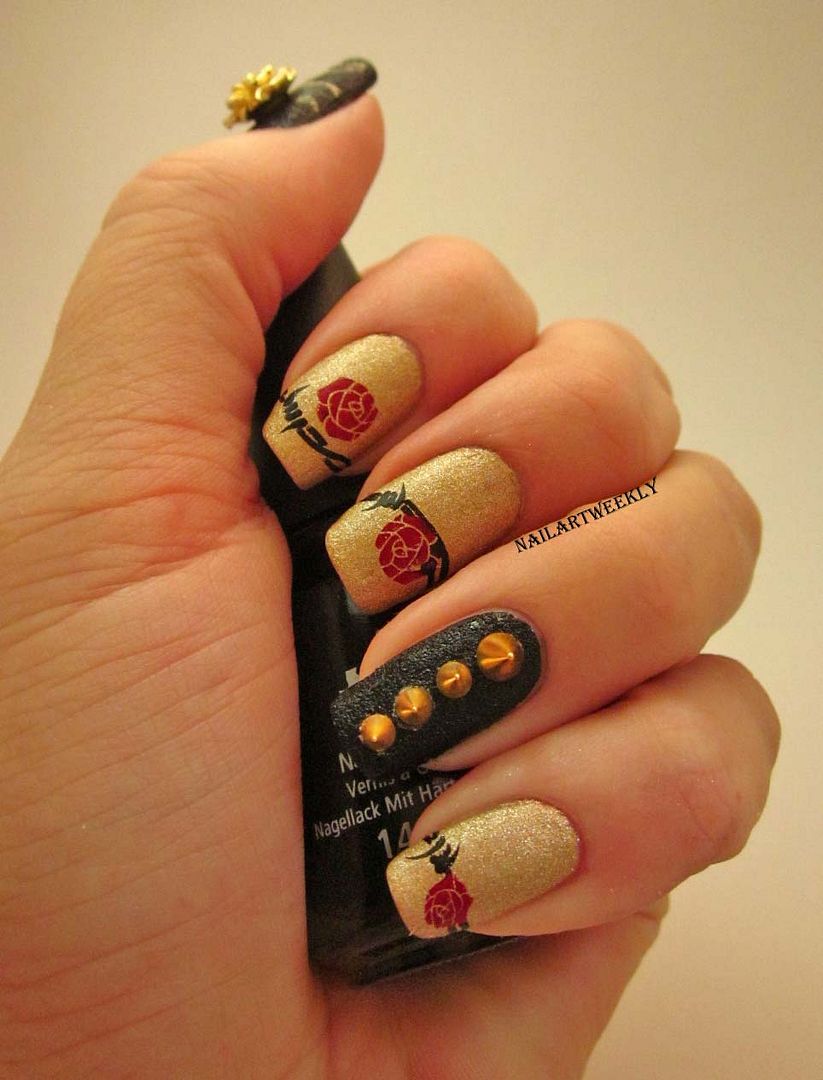 What do you think? It came out even better than I envisioned and I just love when that happens. So that completes my segway on BadA$$ manicures.
Messy Mansion
is owned by the sweet and talented Julia McGowan. She's located in Australia but her shipping costs to the US are very reasonable. The MM series plates retail for $7 and can be ordered directly from her website.
I hope you've enjoyed this nail art design! I'll see you at the next post.