Hello Nail Artists! I hope everyone had a nice weekend. I have something a little different for you today. The theme for this week's challenge in my
Adventures in Stamping Group
on Facebook is "BadA$$ Mani". That was all the inspiration I needed to get a couple edgy nail art designs out of my head and onto my nails. Here we go...
Basecoat & Topcoat: OPI Lay It Down, Nail Tek Foundation II, No Topcoat
Base color: OPI Push and Shove
Accent color: OPI Magazine Cover Mouse
Stamping plates: MoYou London Princess 10, Princess 13 XL and Drikk DRK-Ax1
Stamping polish: Mundo de Unas Black
Embellishments: Daily Charme
It doesn't get much more bad a$$ than a skull and crossbones, right? And I was lucky enough to find several versions of it, all with a cute little bow on top, in my plate collection. If you've been following me you'll know that I love
MoYou London
plates. Their plates work perfectly each and every time. I used the DRK-Ax1 mini plate for the first time today and it worked great too. I wanted to buy the full DRK-A plate but
Ninja Polish
is the only place I know of that carries them and they are eternally out of stock. Someday it will be mine!
I wanted a combination of shiny, sparkly and textured and decided to try
OPI's
Push and Shove mirror finish polish for the first time. The formula was easy to work with and the streakiness I saw during application was gone when it dried. It's still a little wet in this photo. Once it was dry you could see every little imperfection in my nails, even when using their Lay It Down basecoat, but I think that's the norm with these types of polishes. This is one coat of Lay It Down and two thin coats of Push and Shove on my index, middle and pinky fingers and two coats of Magazine Cover Mouse on my thumb and ring fingers. OPI says not to use topcoat with Push and Shove and I rarely topcoat textured polish, so this manicure is topcoat free.
I stamped three different Skulls and Bows designs with
Mundo de Unas
black stamping polish and then debated about stamping my thumb.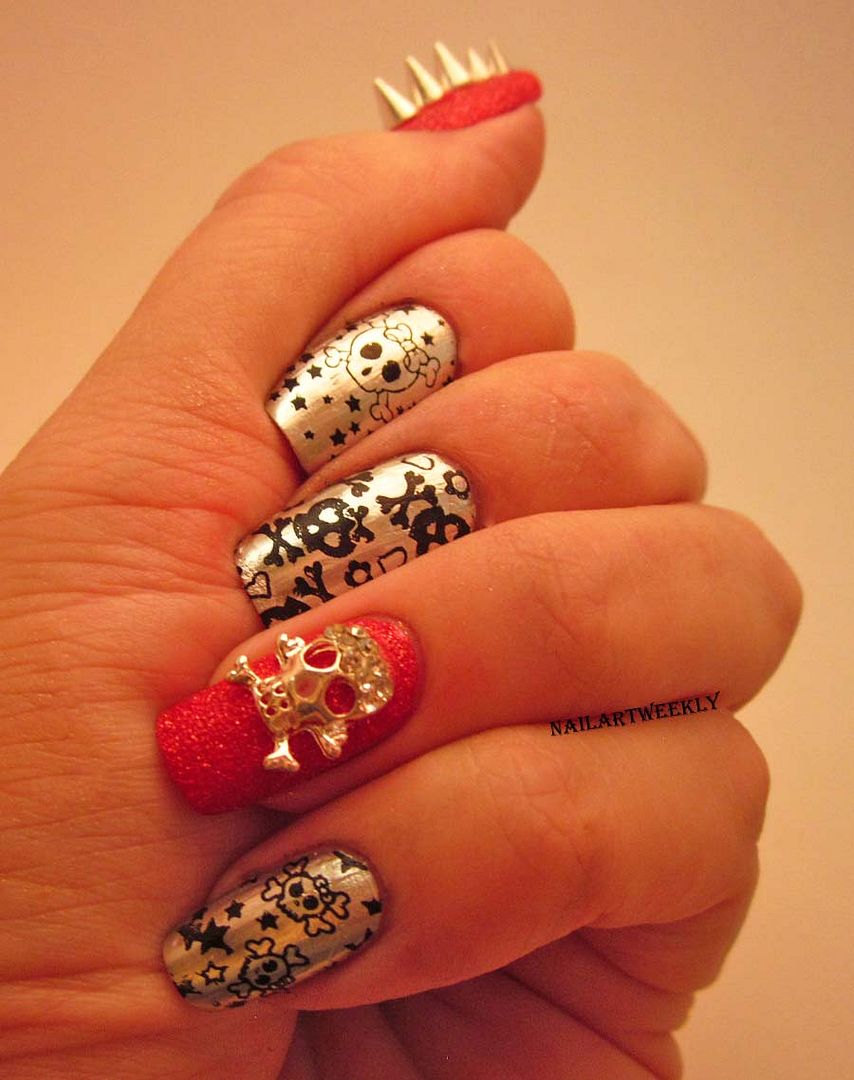 BUT I decided to go for some BLING instead. Ah, how I love embellishing my nail art. I recently discovered a company called
Daily Charme
. They have an amazing selection of charms, including many exclusives designs I'd never seen before, and boy did I go shopping! They also have studs, stickers, decals, some polish...all the swag you could possibly want and all right on trend. I am featuring their Skull and Crossbones on my ring finger and Spikes on my thumb. The best part is they are right here in the US and my order arrived in just a few days! I am all about instant gratification and waiting weeks (or month's, I'm looking at you Born Pretty Store!) was torture for me.
So what do you think? I am enjoying this little excursion out of my comfort zone. So much so that it's going to be Bad A$$ week here on the blog. Stay tuned!
I hope you enjoyed this nail art design! I'll see you at the next post.